The Real Difference Between Staff Augmentation and IT Software Outsourcing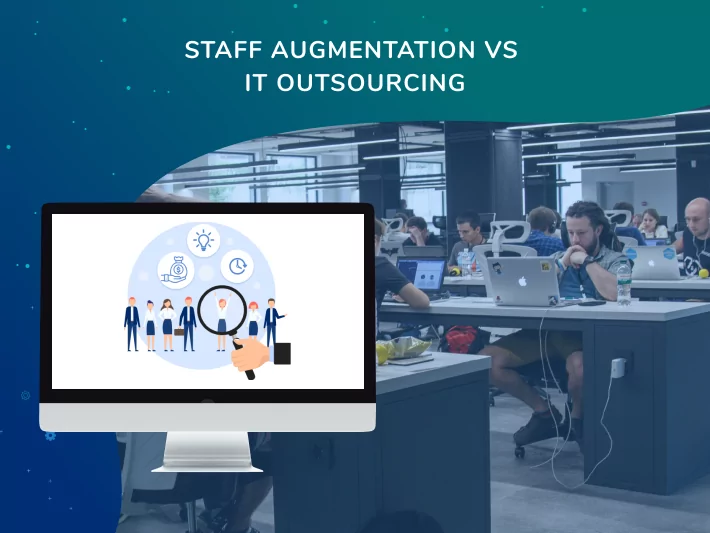 Every now and then, companies need extra talents to fill gaps in their organization or carry out a major project. There are different models by which companies can close talent gaps and avoid burdening the rest of their staff with work that they are not properly equipped to do.
Two of the most popular are analyzed in this article: staff augmentation vs outsourcing. Both forms are becoming quite popular in the IT industry. Which one should you use?

Both are quite different models even though people often mix them up. Here is an analysis of both models, staff augmentation vs project outsourcing, their benefits and disadvantages, as well as their core differences.
In the end, you should be able to make a decision as to which model is the best fit for your company's specific situation having understood the strengths and weaknesses of each.
IT Staff Augmentation
Staff Augmentation is the employment of temporary staff to fill specific skills gaps in an organization. Workers employed in this manner are employees of the company, even though temporary. This is the right Staff Augmentation definition.
That is what distinguishes staff augmentation from IT project outsourcing as well as other third-party staffing options. Consultants, freelancers, and contractors, never form part of the official staff of the company.
Find out how the Outstaffing model fits you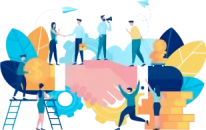 Staff augmentation vs project outsourcing, both are quite different. With the latter, the company is sending tasks outside to be fulfilled by third parties. For staff augmentation, the company brings people in, on a temporary basis, to work on specific tasks.
However, staff augmentation vendors simply provide talents to handle parts of your project directly. The main difference is in the management process: an outsourcing vendor creates milestones and manages the whole process by himself but a staff augmentation vendor just provides some developers and your technical leader should manage them.
These are non-negotiable, irrespective of the either models of staff augmentation vs software outsourcing. What factors must you look out for when searching how to successfully outsource it development? That is what this section covers.
Check developers availability
Sometimes, they provide a whole team of talents too. But the differences in staff augmentation vs software outsourcing often remain clear.
Pros
There is abundant IT talent for hire, especially when you look for foreign talents from countries such as Ukraine and Poland. For instance, one report puts the number of IT specialists in Ukraine at 250,000 as of 2021. This is not surprising, considering the amount of investment that goes into Ukrainian IT universities and talent hubs.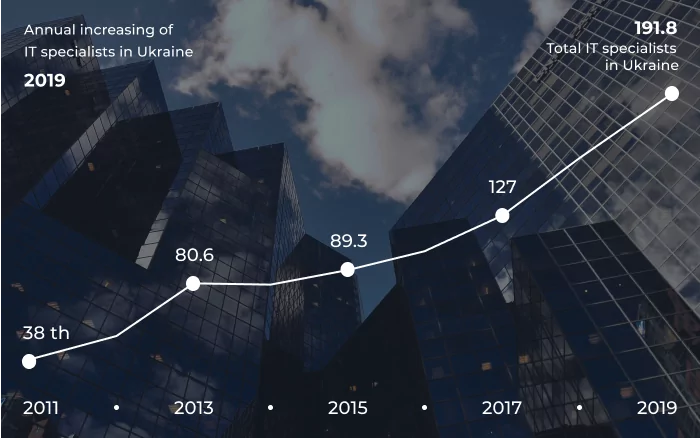 Staff augmentation allows a company to easily scale its teams according to the project needs. It is a flexible means of accessing talents on-demand.
It allows for cohesion and greater teamwork. When projects are outsourced, the vendors usually can't relate to the specific work structure and culture of the client company. However, staff augmentation allows the temporary staff to relate first-hand with the company staff, under the same conditions.
Staff augmentation is cost-effective in the sense that you only pay for the skills/talents you need at the time you need them.
The management has greater control over supplementary staff and their work than over outsourcing vendors, who often work independently.
Cons
Since supplementary staff doesn't work independently, they may increase overhead for project managers who would have more resources, tasks, and deliverables to monitor. If your company lacks the required management personnel (project manager, CIO, CTO, etc.) staff augmentation may not be for you.
Time zone differences, particularly when the supplementary staff is from foreign countries (outstaffing). When you choose between insourcing vs outsourcing software development this peculiarity can be crutial. Managing different working hours may become a hassle of your development process.
Language differences may make it difficult to work with such an employee. Be prepared to work asynchronously. Also, it'd be more helpful to hire talents who speak the same language as your other employees.
Our Experience with Staff Augmentation
Hiring and onboarding are quite challenging for IT startups, especially for one with a work model that requires fast-based innovation and solutions. That was the situation of Frontegg, an Israel-based SaaS company which rendered services to other SaaS companies.
The precise challenge was that, being an emerging startup, they only had a small local engineering team, yet they needed more talents to bring the business' ideas into fruition. However, hiring would most likely be stalled by Israel's cumbersome registration process, besides the need for exhaustive onboarding.
SaaS is a highly competitive IT field and Frontegg could not afford all that if they wanted to be the first to market with an excellent product; certainly not when there was an alternative: ProCoders. The leadership contacted us and we supplied them with developers and engineers who were ready to start work. ProCoders has now been augmenting Frontegg's staff for over a year now.
IT Project Outsourcing
Bringing individuals to supplement talent needs characterizes staff augmentation but IT project outsourcing involves hiring an entire team to take up a specific project. Comparing staff augmentation vs software outsourcing, it'd be staff augmentation if you brought an engineer in to fill such a need in your development team.
However, it'd be staff augmentation if you hired a whole development team to build your app. In staff augmentation vs it outsourcing, the workers hired under the later model remain independent rather than join your official staff list.
Outsourcing agencies take more responsibility for the final result and quality of the project. In outsourcing, it is important for both companies to operate based on mutual trust so as to ensure a fruitful partnership. The better the outsourcing agency understands the peculiarities of the client company, the better the project would turn out.
Pros
There is reduced management overhead in project-based outsourcing since the outsourcing agency works independently. The client company is mostly just focused on the end result of such a project rather than nit-picking tiny details.
The vendor is responsible for the entire project, from start to testing and quality assurance.
Resources availability. Certain countries like Ukraine, Poland, and Belarus have abundant tech talent. Outsourcing your IT projects to foreign professionals is easier than assembling a local team
Cons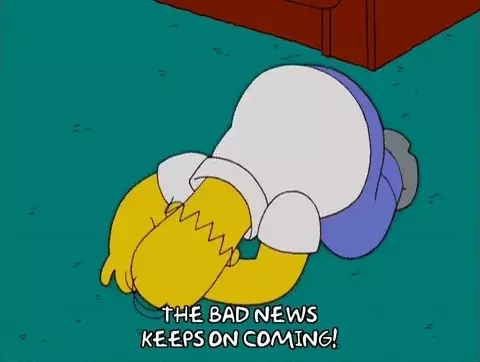 Outsourcing requires you to give up most of the control over the workflow of the project. This can lead to serious problems especially if communication is inadequate.
Project-based outsourcing can be slow to take-off. All aspects of the project must be finalized during the planning and legal documentation must be completed, all before the project starts.
Outsourcing is more costly. The reason is obvious – the level of responsibility. An outsourcing vendor is responsible for the final result and quality of a product, whilst a Staff Augmentation vendor just provides skillful developers. It boils down to risks that an outsourcing company takes, so that's why it charges 30% more.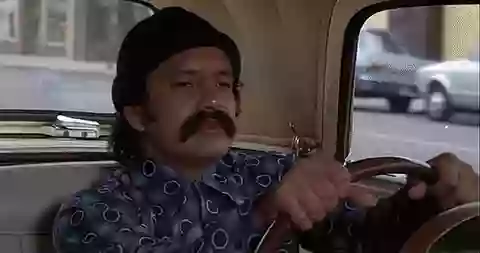 Companies usually find it difficult to assess outsourcing agencies that fit their company objectives and have the best experts. More so, there is the risk of handing your company data over to an unreliable third-party if you don't select carefully.
Our Experience with Project Outsourcing
Dryft is a fitness studio with a mobile app built by our team at ProCoders. The CEO's idea was to create an app to enable subscribers to easily book classes, except that the company didn't have an engineering team.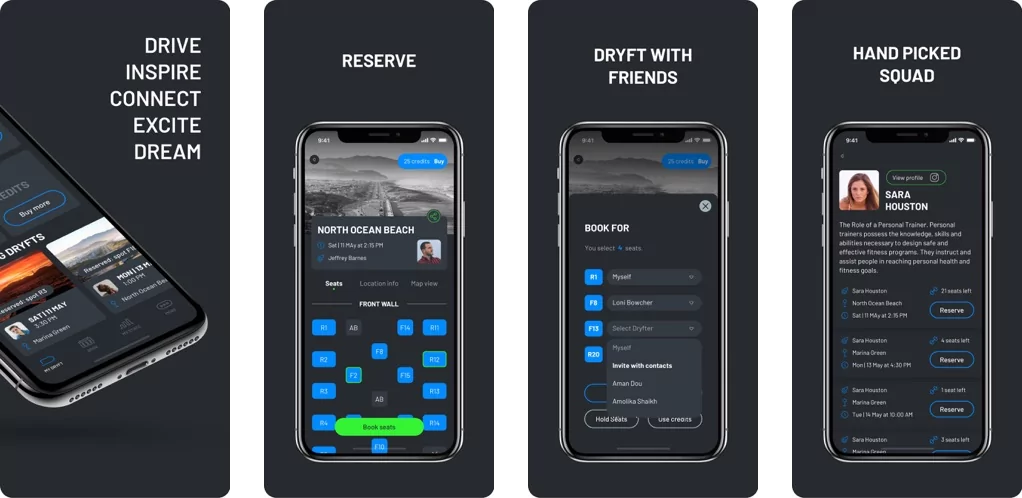 The CEO reached out to us and we had a couple of virtual meetings to set forth the project requirements and other details. We also met with the UI/UX designers in drafting the plan for the project. With details agreed, we provided Dryft with a complete engineering team, which built the now-functional app from scratch.
Let's schedule a call to start a Discovery Phase for your project!
For a project like Dryft's, outsourcing the entire work was the way to go. If they had a ready engineering team but lacked a specific type of specialist, such as a quality assurance expert, then that would have required augmentation. In the end, a project's needs would determine which approach to employ.
Staff Augmentation vs Outsourcing: A Comparative Table
| | | |
| --- | --- | --- |
| | Staff Augmentation | Outsourcing |
| Cost and Duties | The company covers the cost of hiring and training of the supplementary staff, as well as providing them with the necessary tools and resources | The outsourcing vendor handles all the costs relating to the hired workers. The vendor also uses its own equipment and resources to fulfill the project |
| Purpose | To fill specific gaps or assembling a team on a temporary basis. Suitable for short- and long-time and unexpected projects | To carry out projects on which a company doesn't want to hire engineering talents. Suitable for short- and long-term objectives |
| Work Structure and Management | It requires management efforts but it improves overall team cohesion and reduces hiring hassles | The external team does not blend properly with the company's staff even as management is independent. |
| Knowledge | A client checks the supplementary workers' knowledge by itself and they interact directly with other staff | The dedicated outsourcing team combines knowledge of the external market as well as unique insights pertaining to the company's industry. A client can't check the quality of the resources |
| Onboarding | Onboarding happens rapidly since the client gets quick and on-demand access to needed resources and skills | Projects cannot begin until they have been thoroughly researched, deliverables clarified, and milestones created. Also, both parties need to finalize legal agreements before the project may proceed |
Staff augmentation vs IT outsourcing vs others
Both staff augmentation and IT project outsourcing are different from alternative models such as managed services and freelancing. With freelancing, the hired talent works more like an independent contractor. That is, they are neither employed by your company nor are they part of any outsourced team.
Managed services have more similarities with outsourcing. However, while an outsourcing agency works per project, a managed services provider provides support and consultation on a continuous basis.
What to Choose for Your Project: ProCoders Advice
As explained above, staff augmentation vs project outsourcing both have each of their advantages and disadvantages. At the end of the day, the model you choose depends on your company's specific needs at a certain time.
Staff augmentation is useful when you face a lack of resources on the local market and have to meet urgent needs or when there is an unanticipated talent gap that must be filled quickly. It is a flexible means of increasing and decreasing team capacity according to the current needs of the company.
Let's check which developer fits you!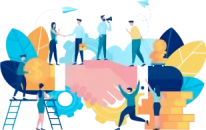 On the other hand, outsource the software project as against staff augmentation if you need a team to undertake a full project. Instead of going through the hassle of managing a software development team, simply sign a contract with a trusted agency to deliver on the project.
Outsourcing is useful when you lack adequate resources to handle a project. IT equipment can be very expensive, but you can access the best of tools without making any purchase when you hire an outsourcing agency.
Whenever you are lacking certain talents, a simple guide you may use to determine whichever of staff augmentation vs IT outsourcing is right for you:
Does the project fall within the company's core operations?
Is there an existing team for the project already (that is, only certain specialists are lacking)?
Would you like to retain most of the control over the project and the team?
If you answered 'yes' to the questions above, staff augmentation is likely the best for that project. Otherwise, you should consider outsourcing.
Staff Augmentation vs Outsourcing Software Projects: How to Find a Right Contractor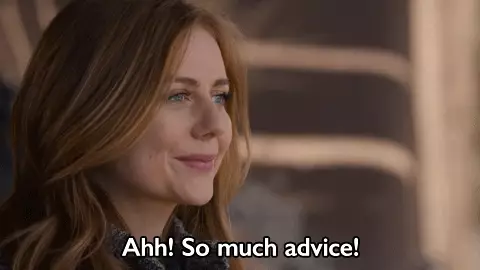 Whichever model you choose between staff augmentation vs project outsourcing, while studying how to hire offshore software developers, the main challenge you would face would be finding the right contractor.
This is more of a hassle with software project outsourcing than staff augmentation though, especially when prospective clients focus on the vendor's general qualities rather than the qualities of individual members of the team.
Therefore, this section focuses on outsourcing models, but the factors are useful in evaluating individual vendors as well.
The right contractor (temporary staff or dedicated team) is not just the one with the highest skills. Rather, they must have the right combination of:
Abilities
Experience
Industry knowledge
These are non-negotiable, irrespective of the either models of staff augmentation vs software outsourcing. What factors must you look out for when choosing one? That is what this section covers.
There are two stages in finding the right contractor:
One is the pre-search stage, where you have to lay the groundwork for future decision-making.
The other is the search stage, where you have different factors to consider in determining if a contractor is right for you or not.
Pre-Search Stage: Clarify your Needs, Goals, and Objectives
This stage informs the direction of the rest of the project. Clarity is not just important for setting the budget; it is important because it makes decision-making easy.
As mentioned above, projects with a few skills gaps and with a managing team should be fixed with staff augmentation. For projects requiring a whole team and/or additional resources, outsourcing the software project rather than staff augmentation is often the best course of action.
Therefore, carefully answer questions as to the nature of the project, its purpose, the type of skills required, etc. The answers to these questions will help you know where to look and how to find the right contractors (temporary staff or dedicated team).
Search Stage: Research and Evaluate Contractors
This is the point many companies miss. As you must already know, cheapness is not the only (nor is it the main) reason to choose a contractor.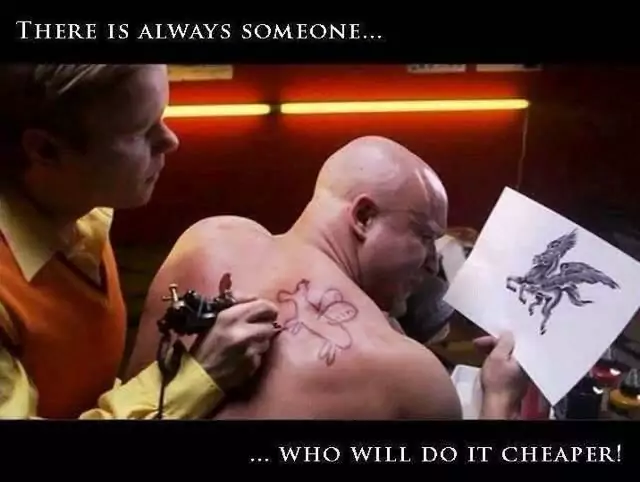 The focus, irrespective of staff augmentation vs software outsourcing, should be on quality, and if you can get that quality cheaply, good for you. Countries such as Ukraine, Poland, China, etc. have emerged as outsourcing giants because numerous skilled talents can be hired for cheaper prices than western rates. And offshore software development Ukraine is the best choice for those who are searching for the perfect balance between price and quality.
When finding the right talents, whichever the model between staff augmentation vs it outsourcing, you should consider the following factors:
Past projects: a portfolio of past projects is highly important. As you judge the quality of their work, also determine the nature of the projects to ensure that they are related to your field/industry. It improves adaptability if the vendor is already well-exposed to the peculiarities of your industry.
Reviews and Past Clients: honest reviews from previous clients of the contractor often tell more than a portfolio would. Besides expertise, evaluate the contractor's relationship with the clients and the team members' work ethic. The aim of this part is to answer the question: will you enjoy working with this vendor.
Get our clients' contacts to discuss their experience with us!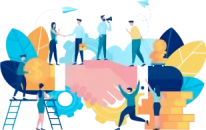 Team members: staff augmentation gives you access to a team of experts. You want to make sure of the skill level of the members of the team. How many of them are junior, mid-level, or senior? Does the mix of workers have enough variation (developers, designers, engineers, analysts, etc.)?
Conclusion
Finding the right talent is crucial to every company. It always helps to have a direction in place before setting out. It's hard to say between staff augmentation vs outsourcing if one is supreme.
What matters is that the model you choose fits your company's needs at the time and that the talents you hire are the right ones for the job. You can make either staff augmentation or IT outsourcing work for you.
At ProCoders, we have the best of talents, raring to contribute their innovation, expertise, and experience to deliver the best results in IT projects.
ProCoders is an IT Staff Augmentation agency that supplies partners/clients with solid IT teams comprising carefully picked professionals. The IT industry is highly competitive but we help you stay ahead of the game.
Let's schedule a call to discuss all your needs!