Hiring for Offshore Ukraine Software Development: How to Do It Right
This Ukraine Offshore Development Market Overview will help you develop a staffing action plan.
If you've been reading IT industry news these last few years, you know — talent shortages in web development are worse than ever. A recent report by The International Monetary Fund predicts that by 2030, there will be a global shortage of tech talent, revenue losses to the tune of $8.5 trillion — with the United States, Russia, Brazil, Indonesia and Japan being hardest hit.
Many companies are finding that when they advertise for programmers, they get a flurry of unqualified applicants. With the gap ever-widening, onboarding that used to take four to six weeks might now be taking three months or more.
Sound familiar?
So what's the difference between onshore and offshore software development and how to hire offshore software developers painless? Tempted by an offshore software development company Ukraine offers? And it doesn't even all the advantages of offshore software development.
You may be part of a growing trend. With most companies scrambling to find and afford IT talent in their home country, competition for developers is hotter than ever. Many are looking to offshore Ukraine software development for answers. Not surprisingly, they're looking for the kind of offshore software development company Ukraine is bringing to market.
With more than 1,000 offshore software development companies, Ukraine has built up an enormous IT talent base — one that has built an offshoring industry that attracts clients from major global powerhouses to the smallest startups. And that talent base can develop new web and mobile apps, handle a bulge of tight deadlines, and even tackle more mundane maintenance tasks usually reserved for a company's internal staff.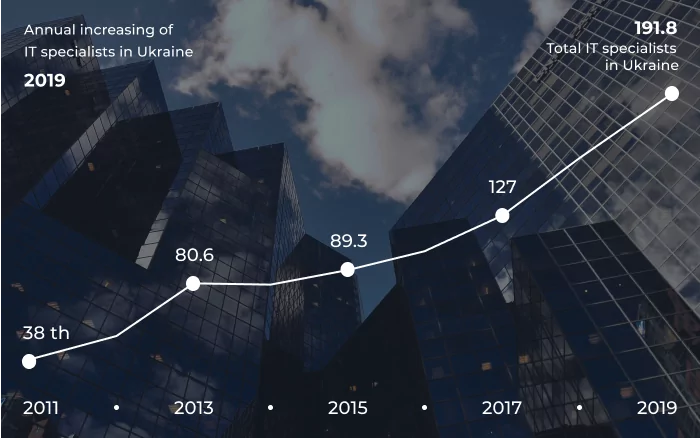 After all, outsourced programmers in Ukraine can be hired for a fraction of the cost of bringing on internal staff, and it's hard to argue with that kind of logic.
With more companies seeing Ukraine offshore development as the answer for their growing IT needs, tech outsourcing has become the third fastest-growing segment of the country's economy. By 2025, IT Ukraine Association predicts that IT consulting services will generate $8.4 billion annually — about 4.65 percent of the nation's overall GDP.
That kind of growth doesn't happen by chance. The outsourcing sector is part of an economic strategy supported by Ukraine's commitment to tech education, as well as an economy with some of the lowest living costs in Europe.
Most university students in Ukraine are required to study English, which has resulted in an IT workforce that's not only conversant in the language but plugged in to the values and workstyles of European and North American markets. Taken together, this is why Ukraine was named the #1 outsourcing destination in Eastern Europe by Outsourcing Journal.
In nearly every measure for offshore software development Ukraine has become a global powerhouse. By 2025, it's estimated there will be more than 400,000 qualified web developers in Ukraine. With more than 130,000 students graduating in the fields of IT/engineering, manufacturing and construction every year, the World Economic Forum has named Ukraine in the top 10 globally for the size of its tech talent market.
With the global IT market poised to embrace offshore software development, Ukraine has been well-positioned to take advantage of the trend. As a Ukrainian organization, we are biased, of course, but we understand why the combination of high skills and low cost of hiring software developers in Ukraine is attractive for business.
Yet, there are a whole host of structural and procedural decisions to make before you approach an offshore software development company in Ukraine. We'll walk you through them, step by step.
Find out how the Outstaffing model fits you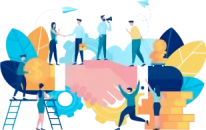 World-Famous IT Projects Created in Ukraine
In the battle for offshore software development, Ukraine has turned itself into a global development epicenter.
If you're considering offshore software development, Ukraine is investing to ensure they make the top of the list. The quality offshore development Ukraine offers has created a thriving tech community — one that's known for quick build-out and deployment, especially among startup companies.
Here's just a few of the startups launched by offshore software development companies in Ukraine.
| | | | |
| --- | --- | --- | --- |
| Grammarly — This organization got a $200 million round of investor funding because it addresses a key need—checking a text for its uniqueness, keyword stuffing, grammar and more. It's a tremendous resource for online marketers and digital content producers. And that's quite the coup for offshore Ukraine software development! | Deposit Photos — With its affordable $9.99 a month plan, Deposit Photos is one of the world's most beloved stock photo houses, offering subscribers a library of millions of images. With results like this, it's an example of why Ukraine offshore development is becoming more popular. | Terrasoft — Integrated CRM, BPM and Service Desk solutions is Terrasoft's business, conducted out of six countries worldwide. | Game World — Since 1995, Game World's developers have relied on Offshore software development Ukraine offers.related videogames for some of the world's biggest corporations and movie studios. |
| Plarium — This Israeli-based organization is about all things multi-player, creating games in the mobile, social and web space designed for simultaneous play. While the company is based in Israel, its IT talent comes from Ukraine. | Template Monster — Looking for a website template, plugin or graphics? Template Monster has you covered, with 58,000 choices for its subscribers for just $15.99 a month. For a company considering offshore development, Ukraine turned out to be a good bet. | reface.app — Have you ever wondered what your face would look like, superimposed on a celebrity? True to its name reface.app allows you to superimpose your face on art or film, creating seamless deepfakes on the fly. | MacPaw — A Kyiv-based company, MacPaw isn't offshoring software development in Ukraine. It's a software company that was conceived and started in Ukraine – a true homegrown, successful company that develops apps for others. |
Offshore Software Development: Why Choose Ukraine?
There are many reasons for choosing offshore Ukraine software development, not the least of which is the country's commitment to developing its IT talent marketplace with favorable regulations, thriving business hubs, and a commitment to tech education. Here are some of the many ways this commitment helps make Ukraine an IT powerhouse.
Steady growth of IT Graduates — With college education subsidized by the government, the country has more than 400 collegiate institutions that graduate more than 32,000 students every year with IT degrees. When students look for employment at an offshore software development company Ukraine delivers job opportunities to launch them on their way.
When they get out of school, these graduates find a great quality of life — with really available positions with generous salaries that allow them to thrive, yet still compete favorably on the world stage. IT careers have become so popular, the offshore software development Ukraine offers has created an offshore juggernaut that's the envy of the world.
Nearly everyone speaks English well — Offshore software development in Ukraine has many advantages — especially when it comes to the language barrier. Don't expect to hear the "broken English" and difficult accents you might experience with developers from other parts of the world. Why? Because in Ukraine, English is a required subject. Most firms make job candidates demonstrate their proficiency in reading and speaking English.
When it comes to offshore software development, Ukraine's English-friendly environment gives the nation an advantage over other low-cost competing countries such as Mexico or China.
Ukraine's central location makes communication easier — Ukraine sits right at the Eastern edge of Europe, a gateway between Asia and the rest of Europe. For an offshore software development company Ukraine offers an ideal geographic location. This makes it very convenient to fly to most major destinations on the continent within three hours. And at only seven hours ahead of the US, it makes it possible to have business meetings with US-based clients at the beginning of the work day.
Low cost of living = lower developer rates — Countries like Mexico and the Phillippines may have the world's lowest salaries for offshore web design, development and engineering, but salaries for offshore outsourcing in Ukraine are still budget-friendly, especially when compared to other major economies.
At $30-$50 an hour, Ukrainian developers come at a lower price than developers in Poland, Belarus and the Czech Republic. And their rates are roughly half those of developers in the United States or Western Europe who can command $100 an hour or more.
With little to no language barrier, many companies find the offshore software development Ukraine promotes sits in a "sweet spot," between high quality, low costs and ease of deployment.
Get Ukrainian IT salaries annual report
Business-friendly regulations — Ukraine's recent effort to integrate into the EU has been bearing fruit. In 2020, the government's Strategic Action Plan has canceled 450 outdated regulations, clearing the way for new initiatives designed to attract investment and supercharge the economy. Shortly afterward, Ukraine's position on The World Bank's Ease of Doing Business rating rose 30 points, largely due to employer taxes being lowered from 49 to 22 percent.
Offshore Ukraine software development has five fewer paid holidays a year than their European competitors. When it comes to the welfare of the average offshore software development company, Ukraine is committed to growing the tech sector through forward-thinking, holistic policies.
Ukraine's startup community is thriving — In addition to the many companies that are finding developers in Ukraine — such as GitLab, Mobalytics, Attendify, and Readdle — there are several Ukrainian tech startups that have been acquired. For instance, Google purchased Viewdle, a facial recognition app. A facial modification app, Looksery, was just picked by Snapchat. And a marketing software company, Maxymiser, was acquired by Oracle.
The country is now home to an investor community dedicated to tech, including AVentures Capital, Chernovetsky Investment Group (CIG), Digital Future, Imperious Group, SMRK, and TA Ventures, as a start. Offshore Ukraine software development has become a major target for venture capitalists.
Incubating R&D — In matters of offshore development Ukraine has the advantage of critical mass. And that's created research and development resources for organizations looking to get their start in Ukraine.
Ukraine is home to 110 R&D centers that are a who's who of global tech powerhouses, including Wargaming, Magento, Oracle, Siemens, Ericsson, Boeing, Samsung, and Microsoft. This ensures the outsourcing market remains both exposed to and steeped in innovation. And that's good for business.
Shortlist of Ukrainian Offshore Development Companies
Currently, more than 1600 IT offshoring companies are registered in Ukraine. Whether you need a single developer for an offshore web design, or the complex expertise of an offshore software development company, Ukraine has skilled IT talent, on-call.
To help make sense of your choices, we've provided a list of some of the larger IT development companies in the country, but it's really only the beginning when it comes to the offshore development Ukraine can bring you.
Epam — Epam is well-known for its work with industries such as fintech, entertainment, travel, automotive and more, who come to the organization for product development, Internet of Things expertise, platform engineering, application and cloud management. 10,000+ employees.
Ciklum — Ciklum is a large offshore software development company Ukraine is proud to call its own. It focuses on a variety of clients from small businesses to global companies, helping the vet new technologies. They focus on IoT, retail, and fintech. Employees: 1,000-9,999.
Global logic — The organization focuses on tech-forward development including the Internet of Things (IoT), and AI. Known for its work in mobile app design and development, the company works on apps for social media, travel/entertainment, productivity/organization and more. Employees: 10,000 +.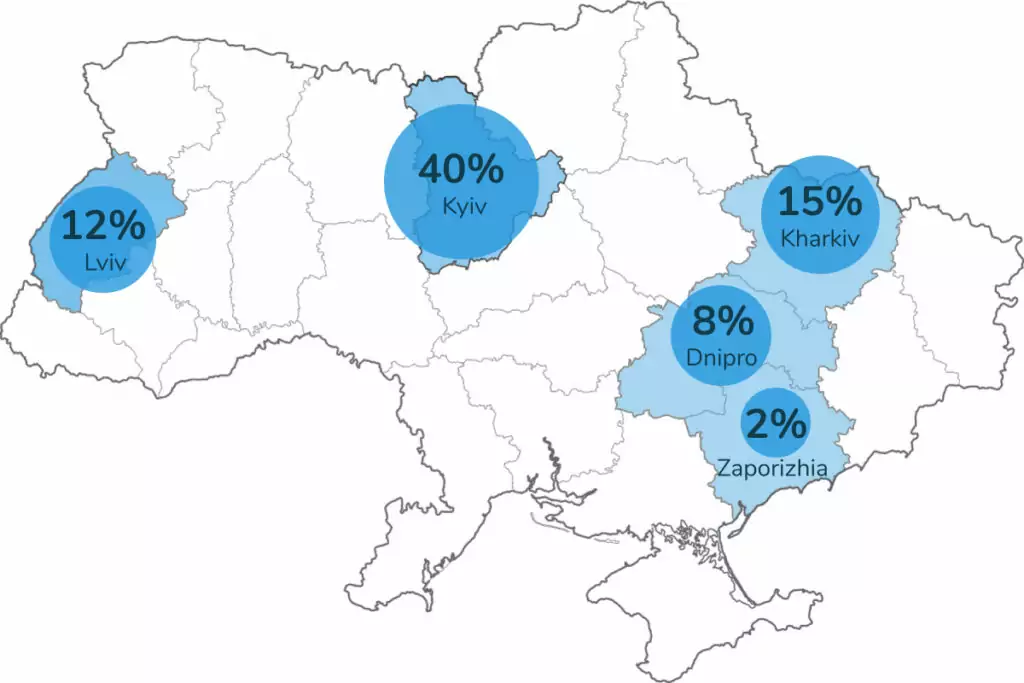 Infopulse — The offshore development Ukraine offers is a popular choice for big companies, and that's in no small part due to firms like Infopulse. In business for nearly 30 years, Infopulse has services including consulting, infrastructure, cloud services and cybersecurity. Their expertise is in the automotive telecommunication, banking, insurance, healthcare and manufacturing sectors. Employees: 2,000.
Abto — Focusing on healthcare and construction clients, Abto's services range from software engineering to AI, web development and enterprise app modernization. 200-1,000 employees.
Exadel — Digital transformation and enterprise software development is the wheelhouse for this multinational consultancy. Still, the company is an example of the kind of offshore development Ukraine has become known for. Its Ukraine offices provide development as well as big data and analytics for clients in healthtech and fintech, among other industries. Employees: 299-1,000.
Miratech — With expertise in Big Data, digital transformation, analytics and cloud computing, this top outsourcing company was originally founded in Ukraine. It provides tech and development services to fintech, insuretech, the telecom industry and more. Employees: 250-999 employees.
Offshore Development Companies: How to Pick the Right One
Clearly, Ukraine offshore development offers potential clients thousands of choices of developers. But not all developers are created equal, and it's important to find the development team that fits your needs exactly. We can help provide the matchmaking that's needed to pair the right staff with the right client.
Let's check which developer fits you!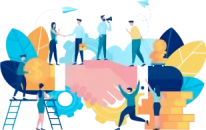 At ProCoders, we have a certain point of view on the matter. Our first piece of advice is to go with a full-fledged offshore development company, and not merely a talent aggregator. There are many companies out there that will simply provide you with an online talent marketplace.
Then it's up to you to sift through the hundreds of developers in their network to find the right ones for you. In many cases, you could be working with a faceless person that's miles away, with not nearly enough vetting for major enterprise projects.
So, your first step should be to find an offshoring company that can help match you and your company's needs with a targeted list of developers, software engineers, web designers, and UI/UX experts.
Assuming you found a company that vets and selects talent for you, we recommend these selection tips:
What do customers say? — The information age has given us tremendous transparency, especially when it comes to client reviews of IT companies. Try Clutch, GoodFirms and Extract, all online services that give you client reviews and background on Ukraine-based IT services companies.
Once you're there, pay attention to the ratings and reviews that they offer. For instance, Clutch offers ratings that take into account reports of the company's business practices, employee ratings, and customer comments.
If you want to see an example of the information you can glean from a Clutch review, check out ProCoders' profile on Clutch.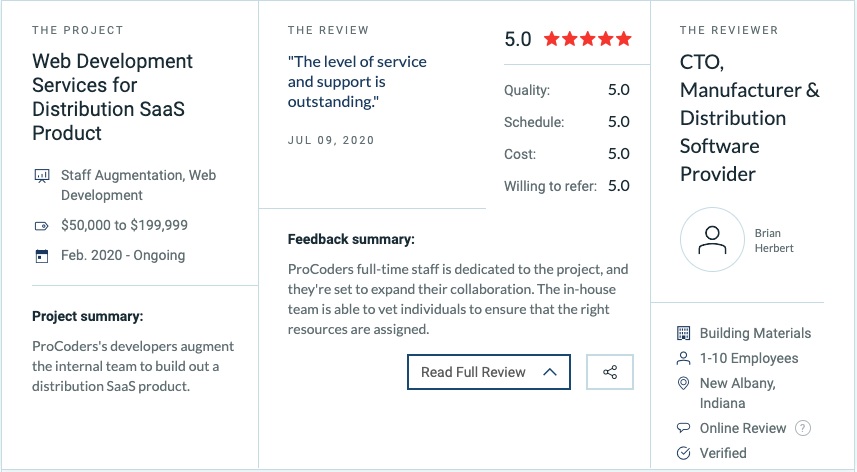 Take a hard look at the top candidate's websites — Obvious advice? Yes. But you can learn a great deal about a company by looking at their public-facing website. Do they have experience working with companies in your vertical? What is their philosophy and approach to development? What is their expertise level and do they have the resources to handle your projects?
Read their blogs, research their customer comments, and you'll be in a much better position to place companies on your shortlist.
Ask your top candidates to reply to a very specific RFP — In it, you should ask for specific information, such as their rates, ability to meet your deadlines, their experience with similar clients, their familiarity with agile processes, and the training of their staff has received. For BI development, for instance, you can even ask your provider about a BI developer technical skills and experience.
Look beyond just what's in their proposal — While it's important to evaluate issues like price and capabilities, it's just as important to consider what's not on the proposal. For instance, how does this company typically work with its clients? Are your developers working behind a screen of project managers, or will you be able to manage them directly?
Are they ready to look you in the eye, and agree to your non-disclosure and security requirements? You should feel good about all the answers you get to these questions before you hire dedicated software development team in Ukraine for offshore development.
The Principles an Offshore Development Company Should Follow
While every offshoring company goes about its business differently, we believe there are some areas of your contracting arrangement that you shouldn't compromise on. When you wade into the world of offshore software development in Ukraine, the companies you contract with should all provide these essential service promises:
Transparency — At ProCoders, we believe in an outstaffing model. This means there is nothing standing between you and the teams that you hire. Our team is your team, and you can talk to the developers doing your work as much or as little as you want. There's no having to report in to project managers or layers of account executives.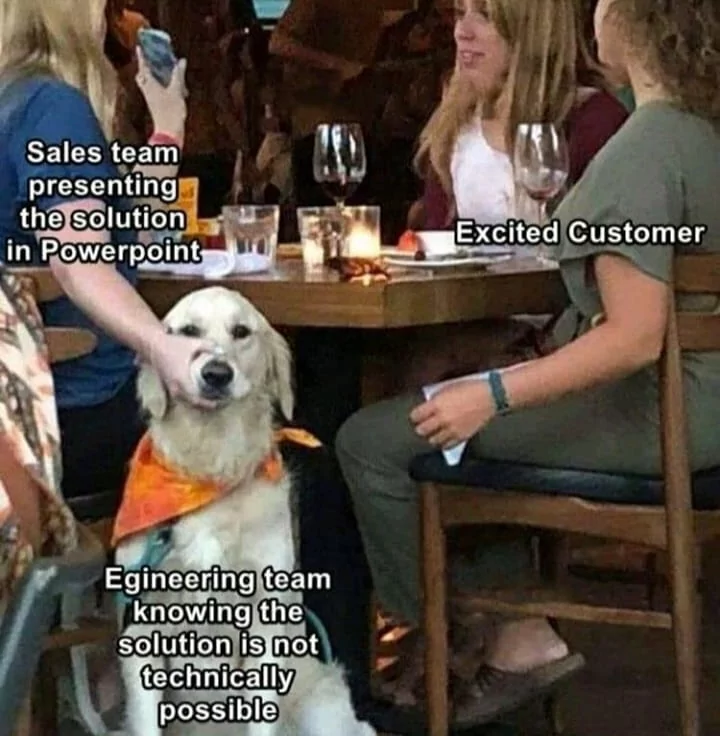 Well-researched vetting — ProCoders provides our staff members to client companies, and we spend a great deal of time making sure that the right staff members are matched with the right clients. We provide you with a selection of talent custom-tailored to you, with the right combination of experience in skills to efficiently meet your budget. In our opinion, every outsourcing company should do this.
Direct management of your resources. The company you hire for offshore development in Ukraine should be prepared to adapt to your work processes. Once your outstaffed resource has been onboarded, they should blend seamlessly into your daily operations. They should be part of your project management boards, participate in your status meetings, and take their management cues directly from you.
We don't believe in having layers of bureaucracy that interfere with the transparent operations on your account.
Truth in pricing — Just because you've contracted with low-cost, offshore software development companies in Ukraine, it doesn't mean they can get tricky with their billing. At ProCoder, we don't believe in working strictly hourly for this reason. When you get an estimate from an offshoring company, the fee should be one set fee. No surprises, no new estimates when the work parameters haven't changed.
When you pursue offshore outsourcing, Ukraine offers you a whole buffet a fantastic options. You shouldn't settle for anything less than the perfect fit for your company.
Conclusion
In the world of offshore development Ukraine has a global reputation as an outsourcing Mecca. The country's low cost of living, high numbers of IT graduates, and government commitment to tech investment make it a solid bet for your next hires. Take some time to investigate what offshoring in Ukraine can do for your business. We think you'll like what you find.
If you'd like to find out more about the work we do at ProCoders, don't hesitate to visit our website at procoders.tech, read out customer ratings on Clutch, or set up a free consultation. We'd love to talk to you!
Get our clients' contacts to discuss their experience with us!