5 Steps How to Building a SaaS Product
Chances are, you are already using SaaS products even without acknowledging it. For the last couple of years, this relatively new technology became the talk of the town and it is predicted that 86% of companies will run using solely SaaS apps after 2022. Zoom, Google Docs, Slack, Trello – they were able to change the way businesses operate.
Now, the key question is how can you hop on this hype train and make a SaaS product fast and cost-effective? How can you make it stand out? Is it even a good idea to create SaaS software and what are the benefits?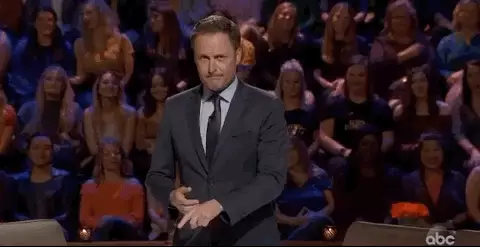 As a company that specializes in augmenting teams with SaaS developers, we are happy to share our extensive experience and knowledge, as well as offering our services in case you need a seasoned pro in building SaaS.
SaaS Product Market Overview
The main reason for developing a SaaS product is primarily the promising market.
No longer than five or ten years ago SaaS apps were not so popular and flew under the radar. Today they are gaining traction and quickly absorb the market. According to Gartner, custom software will be the fastest-growing market in 2021, with significant growth of 10.5%, and the major driver of this growth is precisely the adoption of SaaS software.
The shift in 2020 was caused by the pandemic and the transfer of a large number of employees to remote work. But SaaS products will continue to evolve and develop after employees return to the offices. Business executives have sensed the benefits of cloud-based applications and are not planning on ditching them.
Today entrepreneurs are set on investing in SaaS and within one or two years 88% of business executives (regardless of the size of the enterprise) are going to do so.
According to Statista, SaaS market in 2021 reached 145,5 billion USD and is estimated to be worth 171,9 billion USD by the end of 2022. Which is not unrealistic, judging by the market growth, demonstrated earlier.
To put it into perspective: SaaS accounts for $1 out of every $5 spent on software and the numbers are growing. It's no surprise many business owners want to try their luck in this industry. Building SaaS products in 2022 is a strategic move that is most definitely going to pay off soon.
The USA currently retains the leading position in the market, but the region's growth rate is slowly decelerating. If we are to evaluate the markets in terms of their prospects in the long term, paying attention to the growth rate, then the Asia-Pacific region looks more profitable in the long term perspective. But obviously, the IT infrastructure in APAC is less developed, so western countries remain the safest choice. Here is a rough evaluation of the Saas-related revenue in each region.
The Most Successful Examples of SaaS
There are currently over 15,529 SaaS companies in the world, indicating that competition is fierce. Market dominance, however, is retained by large enterprises: Salesforce, Microsoft, Adobe. Together they own approximately 50% of the market.
The most inspiring examples of cloud-based companies would be Salesforce, Slack, and Shopify – all three provide access to completely different types of services and are leaders in their industries.
Salesforce is offering CRM solutions and marketing automation, Slack is a well-known tool for internal communication, and Shopify is a SaaS provider for e-commerce businesses. Just to compare their total funding amount we're looking at $1.4B (Slack), $65.4M (Salesforce), and $122.3M (Shopify). Numbers are truly astronomical.
Advantages of Software as a Service
So what makes SaaS such a useful tool when it comes to business operation? The advantages can be split to address both parties, the customer and the developer.
Benefits for the customers are very straightforward: SaaS products are very flexible in the sense that it is easy to try new software and then drop it if it doesn't fit; they improve the speed of IT service delivery; enable business continuity; lower TCO (total cost of ownership) and save capital expenditures; reduce overall resource waste.
A recent survey conducted by BetterCloud showed that the main reasons IT experts buy SaaS apps are cost, security, and ease of use. Not only do cloud solutions help save valuable time by eliminating the need to install and run an application on-premise, but they are also saving resources and money.
But what benefits are there for developers who want to make SaaS software? Why should one stick to cloud solutions instead of regular non-cloud products?
Longer-lasting revenue with minimal effort
Yes, it takes time to create a unique SaaS product that caters to the needs of the market. But once it's done, all you have to do is provide top-notch customer support and update the software regularly. Without a question, adding new features or creating add-ons is easier than building software from scratch.
Significant enlargement of the client base
It was already mentioned before that SaaS solutions are highly flexible due to their temporary nature: it's not a once-in-a-lifetime commitment and companies can give up on the subscription if the software doesn't fit them. A piece of good news for developers is the fact that more companies will try their SaaS products and stay for the long run since client exposure is greater by several-fold.
Reliability and accessibility
Those who want to develop software as a service can make the most out of the remote access. Starting from the very first step – the development of the SaaS solution and ending with customer support and after-launch activities. Since the product itself is available at all times and its only limitation is an Internet connection, you can assemble an international A-Team to work on it.
Why Should You Develop a SaaS Product?
SaaS isn't just the buzzword, it's a new reality. Digital transformation already took by storm all industries and areas of business, but it seems like the pandemic only sped up the process. Now on average companies use 16 SaaS apps (with an accession rate of 33%). 80% of businesses will be cloud-centric less than in two years.
Now it's a great opportunity to enter into this market and establish yourself before it will get oversaturated. Especially if you can offer a unique solution for the particular industry and target its specific pain points.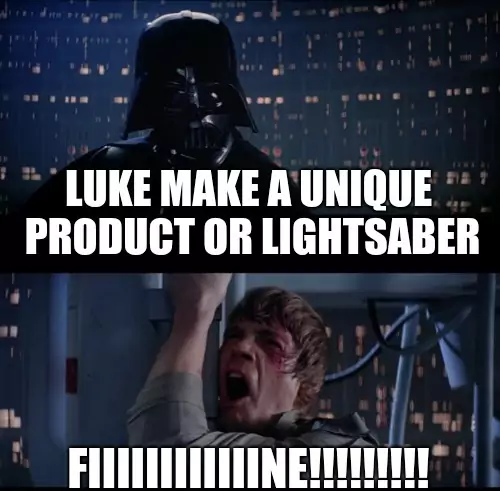 Why should you build SaaS products? To effectively tap the economy of scale and take your business to the next level. For that, however, you need a high-end team to deliver results and that is something we can help you with.
How Does SaaS Project Make Money?
The most pressing matter bothering those who want to create a SaaS product is financial. How exactly SaaS products make money? Traditional software is frequently sold upfront, in contrast with SaaS providers, which typically charge a subscription fee.
If you are to build SaaS software there are several revenue models you might want to consider:
Monthly/yearly subscription
Probably the most popular model today is a recurring monthly or yearly fee to access the product, for example, Adobe (monthly subscription) or Microsoft (yearly). This method is also called "flat pricing" since there are no defined limits to the usage. It is easy to track and sell, easy to plan and predict.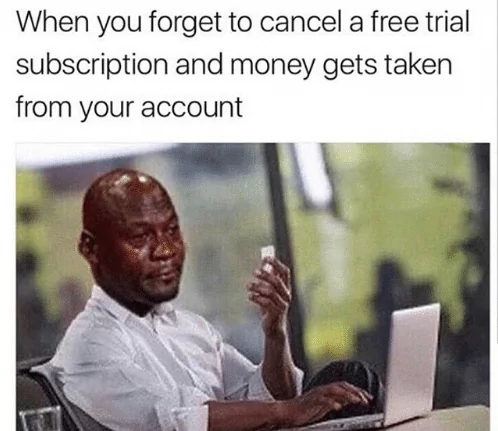 Usage-based pricing
You are charged based on how much you use – simple as that. Amazon Web Services, for example, charges you for the number of transactions and the gigabytes of data used. Progressive payments stimulate long-term clients to upgrade their plans, and remission of fees during quiet months supports your image.
Freemium
To put it simply, you get a limited number of free functions and must pay for the rest. "Over", a popular image editing app, successfully employs this model. They combine free features with "pro" elements so that their clients can choose whether to pay for the subscription or stick with the limited version. Freemium is excellent for viral distribution and provides an easy entry into the market.
So, if you want to create a SaaS product, you have many options for addressing the revenue issue. Always be cautious and strive for a golden medium between giving too much and giving too little for your price. After all, cloud computing requires a significant amount of maintenance power, so your revenue should always cover the costs of providing your service to the customer.
When you create software as a service you must choose the best strategy because it will affect the scale of your business.
Possible Challenges When Developing a SaaS Product
Practice shows that in many cases a migration to the cloud is a separate and complex project. What exactly are the challenges you might face when building software as a service?
Establishing zero-downtime deployment strategy
Making your app available when updating it to a new version isn't as easy as it may seem, meanwhile availability – is of the highest priority in a SaaS product. Zero-downtime is a strategy when your website is never down.
There are two ways to do this: after-hours deployment (updating after hours to minimize the impact on users) or green-blue deployment (switching between two different production environments). If you are unfamiliar with these methods you might want to consider hiring a seasoned expert.
Find out how the Outstaffing model fits you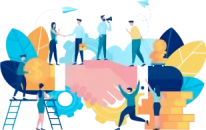 Ensuring security
Main security issues include data leakage, data privacy, accidental exposure, and data sovereignty. And this is the main concern that stops businesses from going 100% SaaS. According to a recent SANS Security Awareness report, 85% of survey respondents believed that their cybersecurity awareness training work had a positive impact on the organization.
Organizations worldwide spend $2.3 million annually to minimize the fallout from security incidents stemming from using the software. Study shows that SaaS workplaces are 2.9x more likely to experience external access as a challenge. That's why when you are developing a SaaS product you need to pay extra attention to ensuring security.
Building a reliable team
Every SaaS business model relies on a strong management team. Your development team must devote their entire time and effort to the project. It's fantastic if your entire team is knowledgeable and dedicated. After all, it is the responsibility of a good management team to hire good employees for the company.
That's why if you want to create SaaS software and lack experienced employees you can hire remote developers, that will be a great asset to your already existing team.
Let's check which developer fits you!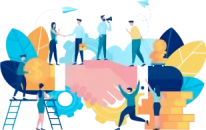 At ProCoders we specialize in staff augmentation, which means that we help you hire SaaS developers for your project. We have dozens of the best Ukrainian programmers at our disposal and are ready to help you build the superior SaaS product out there.
Tech Stack to Make SaaS Software
Nearly any language is appropriate for software as a service. When choosing a programming language to build your SaaS product on, consider your existing experience and language availability (a large number of quality libraries, frameworks, and supporting community).
The most generic answer would be Java both on the front-end (Angular, React, Vue.js), back-end (Node.js), as well as mobile (React Native).
Some say, that Ruby on Rails is the perfect framework for the back-end when you are developing a SaaS product since it allows for quick coding, it's rather flexible and highly scalable.
Check developers availability
To create SaaS software you would also need a reliable cloud database to store back-end data. There are two primary relational databases: MySQL and PostgreSQL, so make sure your developer knows either one of them.
However, depending on your business application and the features you want it to have, some programming languages and technical stacks may be better suited to your needs. In our experience, we've seen SaaS apps built on almost every single programming language.
Developers at ProCoders already have a proven track record with developing websites and apps in multiple industries (IoT, SaaS, Marketing, etc.), and with the help of 50+ programming languages, frameworks, and other tools. We are also very experienced in creating multi-tenant saas architecture. You can check out our expertise and read clients' reviews in our case study.
Get our clients' contacts to discuss their experience with us!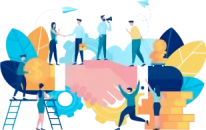 To help Frontegg develop their SaaS solution, for example, we used React.js, Node.js, AWS, and MySQL. This combination worked wonders and with our help, their platform was able to develop in a more efficient way. To learn more about Frontegg and our experience with them keep reading!
Steps How To Build a SaaS Product from Scratch
Step 1. Do Your Homework
The first steps to building a SaaS product are usually the most crucial and directly related to market research. The well-conducted market research gives an insight into what your target audience will be, who are your competitors, what pricing strategy will be beneficial, and define your niche. While conducting your research try and pinpoint even minute details.
When it's time to build software as a service, this data would determine the business model, design, and, most importantly, the functionality of your product.
Step 2. Decide On SaaS Requirements and Figure Out a Business Plan
After you've done an in-depth analysis of the market, it's time to put the results of this research on paper. When writing a business plan try asking yourself a few questions:
What pain points your product is addressing?
What is your unique selling point?
How do you plan to stand out?
What is your target audience?
Do you have any budget restrictions?
What is your chosen pricing model?
What is your profitability ratio?
When you're building software as a service, three major pillars for your SaaS requirements list must be considered: integration options, customization, and security. Make a list of features you'd like to have (and compare them to those of your direct competitors) and those that would be a nice addition.
Let's schedule a call to start a Discovery Phase for your project!
Now, at this stage, you don't have to be an experienced developer and know all the technical details to the tips of your fingers. Those whom you choose as executors will subsequently tell you how it would be better to integrate this or that function during the development process. At ProCoders, for example, we offer extensive technical counseling to make sure our clients will get the best result according to their wishes.
Step 3. Build Your MVP
MVP stands for "Minimum Viable Product". MVP is not a fully functioning product, but rather a mockup with basic features to access whether clients are going to use your software.
Building an MVP is a great way to collect vital information about your potential customers and analyze the core features of your SaaS product. In the end, you are left with the data that is going to be used to streamline your finished product, so don't underestimate it.
What features were the most popular?
What needs to be modified or even removed?
Have your assumptions about the target audience been confirmed?
Will there be a demand for your product?
Clarify your forecasts for the business plan: do you need to change the price tier? How long will it take for your project to pay off with this rate of return?
Now that you have tangible, albeit crude, data, you can be more specific with your developers in what you want your app to look like instead of going in blindfolded.
Step 4. Choose the Right Team
Now that you have a clear vision of what your SaaS product will look like and what you want it to do, it's time to build your A-Team. You can stick to your in-house team, hire a dedicated developer to strengthen your team or outsource the project entirely.
Your choice depends largely on the technical capabilities of your team and your budget, but as a whole, if your in-house team lacks the expertise, or you want to save some time while concentrating on your core functions, resorting to a third party's help may be the best option.
Get Ukrainian IT salaries annual report
If you want to learn more about staff augmentation you can check out this article on our blog.
Step 5. Signed, sealed, delivered!
Finish line! Well, almost. Now that you've analyzed the market, gathered feedback, and assembled a great team of dedicated developers, it's time to make a move and start building software as a service. We recommend creating a roadmap and try to follow the deadlines indicated in it, so as not to stretch the project for a long time.
What do you need to pay attention to after launching your application? There are a few quantitative characteristics that can tell if your SaaS product is successful.
Revenue (monthly or annual, depending on your pricing model)
Customer churn (the proportion of customers who stopped using your company's product or service during a specific time period)
Customer acquisition cost (the cost of attracting a customer to purchase a product/service)
Customer lifetime value (the total value of a customer to a business over the course of their relationship)
And remember, that you need to think about the updates! For your project to develop smoothly in the long term perspective and manage regular updates, you need a team of quality developers with new and fresh ideas. And we can make it happen.
How Long Does It Take to Build a SaaS Product?
Understandably, you want to develop a SaaS product quickly enough to get to the market and gain traction, but calculating the time it takes to build a successful SaaS product without knowing precise requirements and workforce capabilities is impossible. It can take from 4 months to a year, and it's better to discuss terms with professionals, who can evaluate your specific project.
Here is a very rough estimate of time expenditures to create an MVP of a Saas product like Slack:
| | |
| --- | --- |
| Type of Work | Development Time |
| IOS | 852 hours |
| Android | 852 hours |
| Back end | 768 hours |
| UI/UX Design (for one platform) | 80 hours |
| Total hours | 2632 hours |
How Much Does It Cost to Develop Software as a Service?
As in the case of time estimation, it is difficult to predict the development cost without having a clear plan in hand. Assume you decide to hire a third-party developer to build a SaaS product. The total cost of building a saas product is primarily determined by the number of times you must return to reconsider or redesign your functionality.
The location of your team can also have a significant impact on the final cost. Programmers in South Asia or South America, for example, may charge ten times what those in the United States or Canada do per hour. That is why many startups prefer Eastern Europe software outsourcing.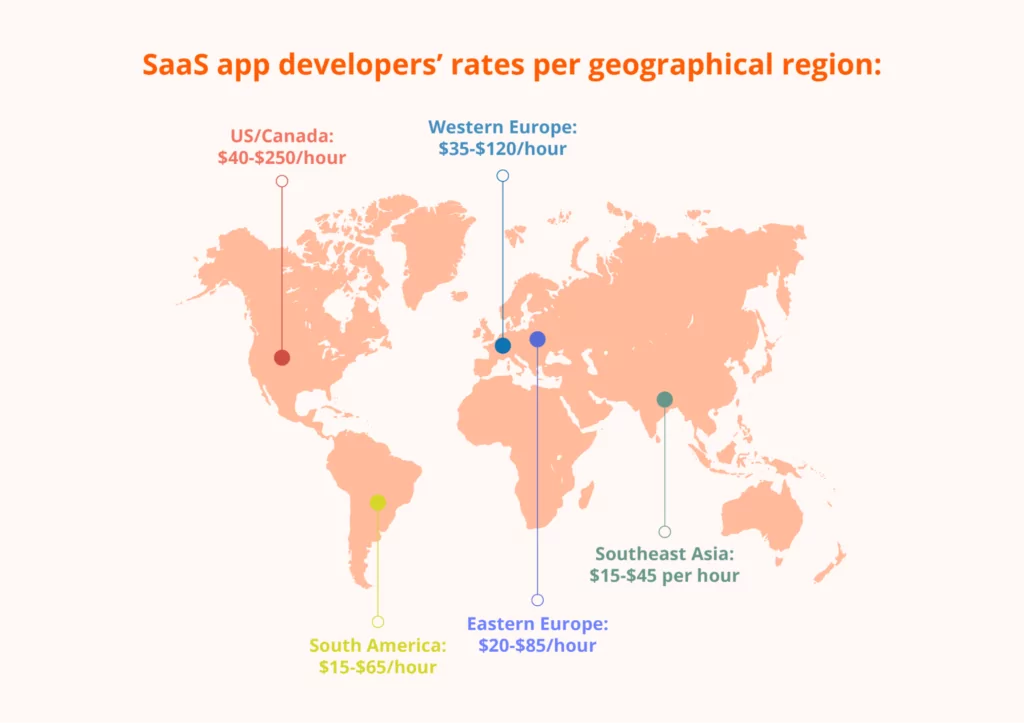 So if we take only one type of development from the previous paragraph – 852 hours – and multiply by the cost of the cheapest American developer, we get as a result $34,080. Meanwhile, you'll be able to hire a higher-level programmer in Eastern Europe and pay him the same amount of money, but get a better result.
Speaking of location, developers from Eastern Europe – especially from Ukraine – are the best value for money that can be. Due to the high quality of IT education and high density of IT developers in the market, it is extremely easy to find a high-level developer in Ukraine.
How Much Does It Cost to Create an MVP?
In general, the development of MVP is cheaper, since it includes the integration of only the basic functions. According to our approximate calculations, the development of an MVP for a SaaS project can cost anywhere between $15,000 to $50,000, depending on the complexity of the work and on the origin country of the developer.
Our Experience in Building a SaaS Software
Our recent clients include companies of all industries and sizes, and our talented developers have been able to adapt to each of them and help create a unique product. For example, in two weeks we managed to assemble a whole team for an Israeli startup Frontegg that specializes in plug-and-play development. With the help of our specialists, the company managed to outstrip competitors in the market and occupy a profitable niche.
At ProCoders we pride ourselves on our SaaS projects. In the course of the last 10 years, we helped more than 20 companies to establish their own SaaS product and were able to accumulate extensive experience in that realm.
Our main advantage is that we work with projects at any stage and are ready to quickly respond to any of your requests. Developers at ProCoders are constantly improving their skills and are ready to provide technical advice so that your product is the most relevant and high-tech on the market.
Are you looking for a skilled development team to create a high-quality SaaS app? Do you aspire to be the best in your industry? Give us a call!
F.A.Q.
Where to hire SaaS developers?
You can use Upwork or Clutch. That way you can gain access to a global market of IT specialists and choose the one that fits your needs. But if you don't want to spend even more time searching for reliable and competent partners, we are eager to offer our services. Developers at ProCoders already have experience with SaaS technologies and can help you build your SaaS product more efficiently and on time.
Outsourcing company or staff augmentation?
Both options may seem beneficial! However, in our experience, when you are building SaaS products, it's easier and more effective to extend your already existing team with outstaffed SaaS developers. Why? That way you have control over the development process, which in turn leads to better end results. Your team members know the product from cover to cover and are able to make sure the app is in sync with your values and augmented IT specialists are bringing their awesome skills to the table! And the bottom line is, staff augmentation is more flexible, adaptable to any minor changes, and more cost-effective.
What lines of business work best as SaaS?
There are SaaS applications for almost any business process you can think of: eCommerce, marketing automation, CRM, financial automation, project management, business intelligence.
How fast can I assemble a development team to build SaaS software?
If you don't have an in-house team at your disposal, putting together a full-stack team can be tricky and take up to 2 months. To speed things up, you can hire an outsourcing company with a wide range of specialists and outstaff your team with seasoned experts. At ProCoders, for instance, we can build a team for SaaS development in about two weeks.
Conclusion
Without a doubt, the SaaS model has created a wide range of business opportunities. SaaS products are a good choice for multiple users because they do not require installation, configuration, updates, and have no compatibility issues. It is also predicted, that the market for software as a service would be the fastest growing software market in the next five years.
These facts pique the interest of entrepreneurs who want to create SaaS software and provide value to a larger audience.
Hopefully, our guide helped establish the relevance of building SaaS products and you have a clear picture of what you need to do to succeed in developing one. And we can help you with that – contact us and extend your team with ProCoders' excellent developers. Maybe your product will be the next breakthrough in the SaaS industry!
Let's schedule a call to discuss all your needs!