Offshore Software Development Rates: Overview and Our Advice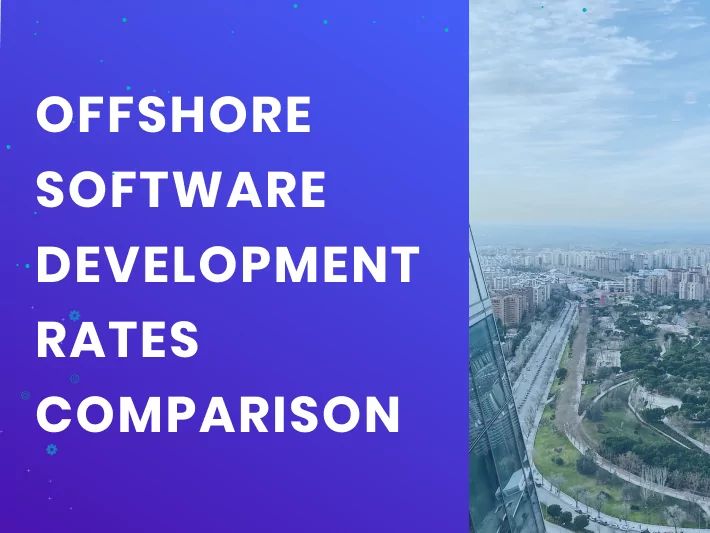 Offshore has become a trendy word that you can hear everywhere, often dealing with banks, assets, and development. It is understood that offshore means somewhere far away, typically across the ocean, and by taking advantage of offshoring you can unlock a treasure trove of opportunities not available locally.
This article will review and compare offshore developer hourly rates in detail to help give you a comparison of the best locations for offshoring. We will also examine what affects the total costs for offshore software development rates by country, possible pitfalls, and other important information.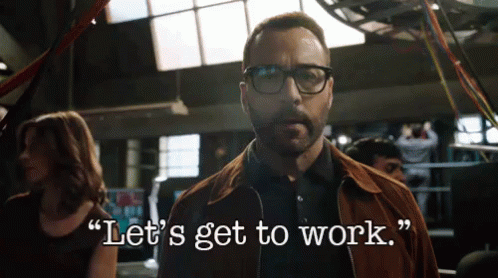 What is Offshore Software Development?
Offshore software development is a way to transfer the development process overseas, often to distant countries that are likely on another continent. You can augment your team with talented developers and quickly assemble a team to take on urgent tasks while also taking advantage of the best possible offshore developer rates. So, how much does an offshore developer cost?
Most companies are forced to be more budget-conscious than giant corporations like Google or Apple, which can afford to hire the best developers locally in Silicon Valley. Working for these companies is very attractive for IT engineers, which has caused some regions to face a brain-drain.
Naturally, developers want to earn as much as possible, so they tend to move to the most profitable locations, for instance, San Francisco, which can create a lack of IT engineers in other States. Hiring is therefore often one of the main problems that affects startups and medium-to-large companies and a key reason why they look overseas for reliable suppliers of offshore developers.
Check developers availability
So, how much does an offshore developer cost? Let's take a look!
What Offshore Software Development Models Exist?
Offshore software development rates by country have several models. Below we will briefly describe the features of each:
Staff Augmentation
Staff augmentation is one of the most popular models, which can be used to easily find the specialist or team to meet your company's needs. This model is very effective for companies that have technical leadership, but lack qualified developers.
This is a flexible approach where you don't need to spend your budget on staff "waiting on the bench", while still receiving all the advantages of the adaptive model at a comparatively low cost for offshore developers. At the same time, the company remains fully in charge of the development process, taking responsibility for their developer's assignments and their results.
Getting the desired specialists is easy when you know the offshore software development cost. So, gaining insight into offshore software development rates comparison is vital.
Find out how the Outstaffing model fits you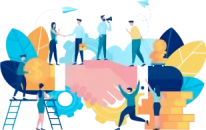 Managed services
If you don't have the desire or ability to manage your project, then managed services are usually the best option. This involves transferring the management of your project to the vendor company.
Project-based Outsourcing
You transfer the development of the project entirely to the vendor. They research the feasibility and technical requirements, create work plans, recruit project managers and technical leaders, and build the development team itself.
In this case, knowing the cost for offshore developers is vital! Your offshore vendor will build the project based on an agreed budget, and you will know offshore developer hourly rates as well as how much time it should take to complete, but you do not have to deal with either hiring staff or monitoring and managing the project.
The contractor company is engaged to provide the full range of services, starting from the creation of a complex technological document (Discovery Phase) to the final implementation of a turn-key project.
ProCoders' approach to estimation
For instance, if you have a project idea, during Discovery Phase we will describe the entire scope of work, analyze team requirements, describe milestones, sprints, and design a project's UI/UX mockups. You will get your own unique project with a budget and timeline that will only require your go-ahead to commence. Sounds like an attractive option, doesn't it?
Let's schedule a call to start a Discovery Phase for your project!
Full outsourcing involves engaging multi-functional capabilities, such as project management, building a team from scratch, and solving urgent problems that arise during the process. All of this is handled by your offshore development partner, and all you need to know is the offshore development rates and timeline!
This was just a brief description of the potential offshore development models. In addition to the cost of offshore software development, each of them has its own pros and cons, which will need to be examined to determine the best model for your project development.
How much does an offshore developer cost? What are the offshore software development rates by country? While every project is unique, your offshore development partner can provide guidance depending on the model chosen for the project as well as the cost for offshore developers to give you an idea of what you should budget for your future project.
Get Ukrainian IT salaries annual report
Why Does Your Business Need Offshore Development?
Offshore development is growing as more businesses are attracted to its advantages, and costs are continuously updated. As more of the world's business is being conducted online, the need for developers continues to grow and, as a result, offshore developer rates are growing.
This is completely normal because as border friction for businesses is reduced wages are expected to standardize. However, in countries like the United States and Canada, the shortage of developers had been prevalent even before the increase in demand.
Thus, many companies and startups are now resorting to the help of foreign vendors who are ready to provide their resources for development and they must know the cost of offshore software development in order to make the right smart choice.
Given the highly competitive environment for software developers, the cost for offshore developers is also growing. This is the second reason many businesses decide to move their development offshore to countries like Ukraine, where IT is one of the main industries and there are many talented, English-speaking software developers.
Offshore software development rates in Eastern Europe are lower due to lower cost of living and significant competition among offshoring firms, which results in competition for lucrative contracts.
According to statistics of offshore developer rates published by Statista, by 2023 revenue from mobile development will approach $1 trillion dollars, due to the growing requirement for businesses to maintain mobile applications to remain competitive.
Do you have a great idea for a mobile app for a new or existing business? With the help of offshoring, you can engage the best talent at a reasonable cost for offshore software development, but you should be aware that the quality can vary in different parts of the world.
What Affects the Cost of Offshore Software Development?
ProCoders conducted research that found that the cost of offshore software development largely depends on a number of factors such as location, cooperation model, cost of living, developer experience/qualifications, reputation in the market, the technology utilized, and work format.
When choosing to explore offshore software development rates by country, it is necessary to understand the most important factors that affect offshore developer rates. Below are the 5 most essential factors that directly influence the cost of offshore software development in different countries:
Location
In the USA, Canada, and the United Kingdom, the cost of living is much higher than in other parts of the world, which means that wages are naturally higher regardless of their profession, that is why offshore development rates will be significant. If you want to get qualified specialists at prices lower than in the USA – Ukraine, Poland and Latin America will suit you.
Cooperation Model
At ProCoders we understand the different cooperation models – It is important to know that different models imply different degrees of responsibility and risk-bearing between you and the development partner.
The different models have different offshore software development rates associated, which can vary by country and which can also vary between development partners depending on a partner's preferred cooperation structure.
So how much does an offshore developer cost? Below we compare the responsibilities and relative offshore developer cost for each cooperation model:
| | |
| --- | --- |
| Staff Augmentation | In this cooperation model, you have full control over the process, with your development partner responsible for sourcing talent, dealing with local HR requirements, and providing the hardware and software to your developer. However, it is your responsibility to direct your development team through all the stages of the project and ultimately its final result. This model of interaction is the lowest cost model as you take on responsibility for managing the project yourself. |
| Managed Services | In this cooperation model, your development partner will be responsible for managing the project and ultimately be responsible for the final result. When compared to the first model, this model's costs are higher, since the consultant is responsible for the management and the project's risks have been partially assumed by the developer. |
| Project-based outsourcing | In this cooperation model, you have an idea and are engaging a development partner to implement it as a turn-key final product. Your development partner will conduct research, take responsibility for evaluating all the subtleties and pitfalls of the development, engage qualified developers, make a work schedule and work plan, take responsibility for meeting deadlines, and, most importantly, assume responsibility for the quality of the final product. This cooperation requires the development partner to take on the most responsibility and risks for completing the project on-time to the client's standards, and therefore the offshore software development cost is the highest. |
Work experience
The more experienced a developer, the higher the rates commanded. This is undoubtedly true, however, having an experienced developer for complex tasks and implementations will often pay dividends; having someone who is experienced can be key when choosing a particular candidate for your team.

Tech stack
Offshore software development rates by country depend on the technology stack utilized for the project. Some technologies, for one reason or another, are more popular with business owners and programmers around the world, so you can often pay more to find a developer if you're using an uncommon technology.
Flutter is one of the best examples of a new, but popular, technology stack; however, there are some technologies like the Zend framework, which has significantly slowed down development and lost popularity. Typically, if you want to create an application based on a technology that has only been around for a couple of years, then it will be more difficult to find experts that are well versed in the technology.
It can be the same with old technologies – if you need to modify or make additions to a program that is written in out-dated technology that not many developers still work with, then it will again be difficult to find a specialist. In both cases, the price will be higher.
Term of appointment
Usually, the longer a project the cheaper the price. As the rule, short-term projects (less than 6 months) are more expensive (on a per month basis) than projects that are longer than 6 months. One should note, however, that long-term projects over several years can result in increased cost over time as developers receive raises to compensate them for their increased skill level.
When searching around offshore software development rates comparison, one should be careful not to seek out the lowest cost option at the expense of skills. In the pursuit of low rates, you can lose in the long run because you hire unskilled employees or build a team that produces sub-par results.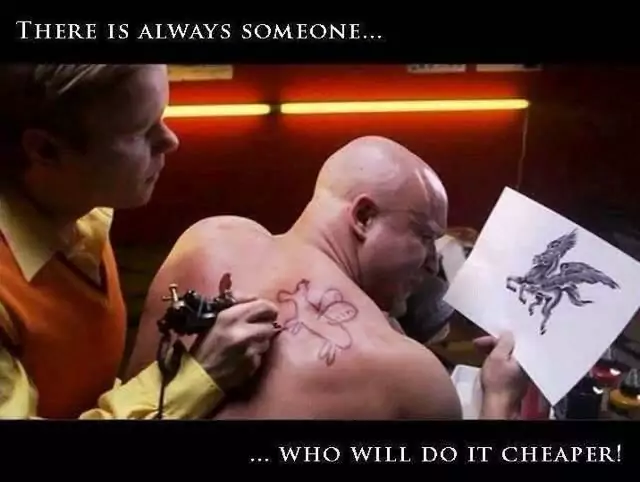 Offshore Software Development Rates by Region and Country
There are typically 5 regions that are often considered for offshoring, and which provide favorable price to quality ratios. To make a complete analysis, it is a good idea to review Upwork, Clutch, GoodFirms in addition to the offshore developer hourly rates that we outline below.
Let's take a look through offshore software development rates comparison to help you choose the best region to begin your search and answer the main question of this article – how much does an offshore developer cost?
North America
Let's start our analysis with North America, specifically the United States and Canada. It can be comfortable for companies to originally consider hiring developers that live close to home. The United States and Canada differ slightly in cost, Canada is usually slightly lower, but they are still very close if you look at the average rates.
According to the data, the offshore developer rates for a novice specialist start from $49 but the rate for experienced developers is much higher. Large taxes and a high cost of living result in a higher average salary for an offshore developer. How much does an offshore developer cost in some larger tech cities in the United States?
| | | | |
| --- | --- | --- | --- |
| Location | Novice specialist's average hourly rate | Location | Novice specialist's average hourly rate |
| San Francisco, CA | $66 | San Diego, CA | $49 |
| San Jose, CA | $63 | Piano, TX | $47 |
| New York, NY | $59 | Chicago, IL | $47 |
| Seattle, WA | $58 | Austin, TX | $46 |
Source: indeed.com
Latin America
Latin America offers attractive working hours since the time difference between San Francisco and Brazil is 4 hours, which makes managing a team very easy. Many American companies offshore administration projects to Latin America. Brazil is the central point in Latin America and is considered one of the top 50 most advanced digital nations.
Below is a table of offshore software development rates comparison in Latin America to help understand the costs of offshoring in this region.
Offshore developer hourly rates in Latin America:
| | | | | | |
| --- | --- | --- | --- | --- | --- |
| Argentina | Brazil | Bolivia | Costa Rica | Chile | Mexico |
| $50 | $50 | $30 | $40 | $50 | $55 |
Offshoring to Latin America does offer a significant cost advantage over North America, but the cost is not the only consideration when hiring an outstaffer, we suggest taking a closer look at several factors in the region.
Important aspects include English ability and technical specialization. The majority of Latin America speaks Spanish and Portuguese, and English is often not well known.
Additionally, many of the universities in Latin America do not offer programs that provide a good basis in IT technologies. Therefore, when considering Latin America due to its low average salary for offshore developer, make sure you do your due diligence on your prospective developers before making the final decision!
Western Europe
How can we describe offshore companies in Western Europe? Reliable, qualified and with high offshore developer rates? Yes. Because of the high cost of living, tax system, and developer qualifications, they are expensive, almost as expensive as in the United States.
A major advantage of choosing offshore to Western Europe is the convenient communication, nearly all developers speak fluent English, eliminating communication problems. The main locations for offshoring in Western Europe are the Netherlands, France, and the United Kingdom.
As you probably notice, the average salary for offshore developer in these countries rates are high, only second to North America, and the offshore development rates are continuing to grow.
The average salary for offshore developer in Western Europe
| | | | | |
| --- | --- | --- | --- | --- |
| Germany | France | United Kingdom | Netherlands | Switzerland |
| $82 | $65 | $100 | $70 | $75 |
Offshore software development cost varies by country and it is possible to achieve some moderate saving relative to offshore developer hourly rates in North America.
Asia
Despite the fact that the IT sector in India attracts many business owners with its low cost, the market in this region is developing quite slowly. Of course, Asian specialists tend to work, because the average salary for offshore developer makes it possible to live normally. It is no secret that salaries and living standards in India leave much to be desired, and the aspirations of IT specialists are more than justified.
India is a former colony of Great Britain, but many IT specialists have very specific English, which is sometimes difficult to understand. In India, there are quite a few good technical universities and this can directly affect the level of technical expertise and offshore developer hourly rates.
Below is a table of offshore software development rates comparison in Asia to help understand the costs of offshoring in this region.
The average salary for offshore developer in Asia:
| | | | | | |
| --- | --- | --- | --- | --- | --- |
| Bangladesh | China | Malaysia | Nepal | Philippines | Sri Lanka |
| $25 | $35 | $30 | $25 | $25 | $25 |
It should be noted that India and China differ significantly with regard to offshore development rates. Chinese developers have a fairly high level of training and there is a wide pool of talented developers; however, English ability and offshore software development cost can be a concern. Hiring Chinese specialists costs almost twice as much as their counterparts in Central Asia.
Eastern Europe
If you are to ask us where the best conditions are for offshoring your IT talent, the answer is Eastern Europe. While this suggestion might seem like a simple marketing move to attract customers, it is actually the result of considering important "3H" aspects: High qualification, High competition, and High level of responsibility that have a strong influence on the average salary for offshore developer.
Ukraine has long been the leader of IT offshoring in the region. At the end of the twentieth century, the first IT companies had already opened up shop in Ukraine. In the 20 years that have elapsed since the first IT companies opened in Ukraine, the market has grown continuously and at the end of 2019 it exceeded 15% of Ukraine's GDP.
Ukrainian offshore development rates are approximately at the average of the Eastern European region as a whole; however, developers in Ukraine tend to be well-educated with a strong foundation in IT technologies and speak English well.
Let's check which developer fits you!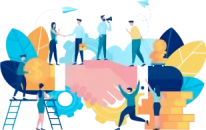 A Ukrainian market is a unique place for cost for offshore developers in that it has brought together highly competitive talents in combination with a good technical education at universities. HackerRank research study shows, Ukrainian developers are ranked 11th in the world in terms of skills in 2020.
It is worth noting that offshore developers hourly rates in Ukraine are not the cheapest, since the country invests a lot in the development of its specialists, creating a significant competitive environment. Below is a table of typical offshore software development rates in Eastern Europe:
Offshore software development rates comparison: Eastern Europe
| | | | | | |
| --- | --- | --- | --- | --- | --- |
| Ukraine | Bulgaria | Croatia | Poland | Romania | Belarus |
| $37 | $34 | $25 | $40 | $26 | $28 |
Two important facts, such as the offshore software development cost and tech skills, played a significant role in making Ukraine a central point among the average salary of an offshore developer.
Therefore, we can safely say that Ukraine, as a part of Eastern Europe, occupies a favorable position among the offshore software development rates around the world.
We have a large number of technical universities and private IT schools that are focused on providing high-quality education, which continues to improve the local talent pool
Ukrainian developers speak English well. English is a mandatory subject from primary school and is offered in almost every university. Developers in Ukraine understand that success in software development is not just about technical knowledge, it's also about speaking English
Ukraine offers an amazing value to cost ratio proposition, where you can hire highly qualified specialists with good English at a fraction of the cost in Western countries
We focus on serving the Western markets and clearly understand the business culture in Europe and the United States. It is easy to communicate and work effectively with Ukrainian firms!
After looking at our research you can get a full-scale picture of offshore software development rates by country, choosing a region with fewer risks and costs.
How to Choose the Right Offshore Software Development Vendor?
Based on our experience, we do not recommend paying attention only to the cost of offshore software development, you may be disappointed.
In addition to the cost, when choosing a potential developer, you should rely on the following factors:
Consider the ratio of quality to the price in your chosen country
Determine the availability of the required number of qualified developers that your prospective offshoring partner can provide
Consider the business environment in your prospective country
Ensure that your prospective offshoring partner has strong English ability and uses convenient communication tools
Evaluate your prospective offshoring partner's completed projects and ratings
Read reviews from past clients
Get our clients' contacts to discuss their experience with us!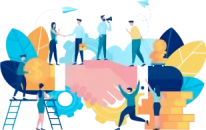 In summary, when considering offshore software development cost should be second to the quality of service and skill of the developers. The cheapest option will not usually equate to building a reliable, high-quality development team.
Knowing offshore software development rates is a good place to start, you should be aware of these rates so that you can focus on a suitable market in which to find an offshoring partner. A reliable service vendor will be able to provide you with authoritative technological expertise, provide suggestions to improve your project, and correct shortcomings.
You should be suspicious of companies selling you the cheapest option without providing any other benefits: saying "we are cheaper, and therefore more profitable for you" in the hope of gaining your business.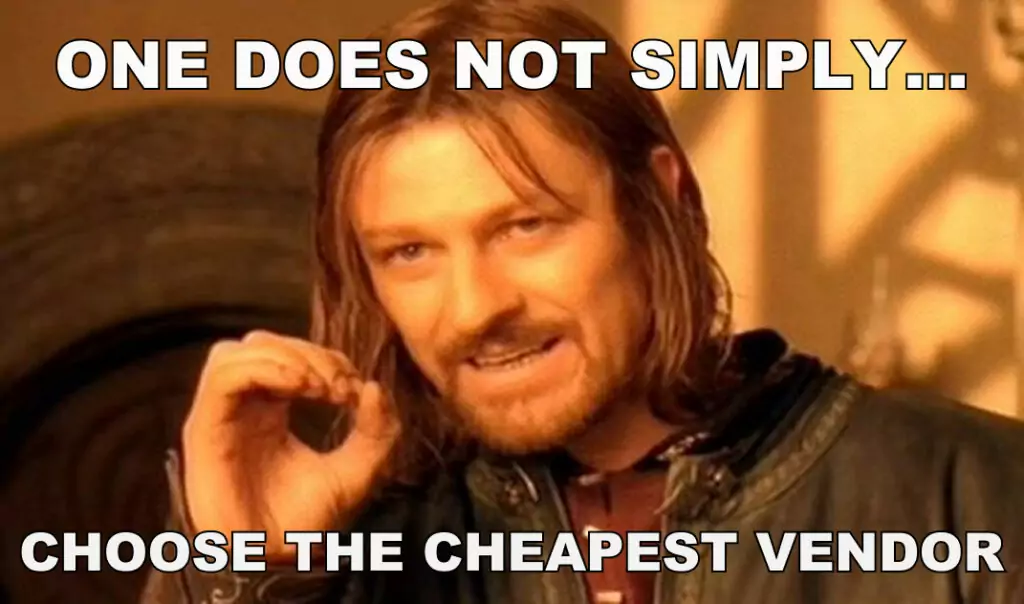 Rather, you should look to companies that provide the most value and that know how to optimize value for dollars spent! Nevertheless, you should be aware of offshore development rates so that you don't lose money in vain.
Before choosing your partner, take time to meet with the management and the team, so they can address any questions you might have. This is not advice, but a rule that you to be followed before signing a contract.
We advise you to target the following characteristics when searching for your development partner:
They always tell you the truth, don't hold back concerns, and are ready for dialog
They are focused not only on money: interested in the process and giving customers the best results
They are willing to make you a qualified turn-key technological document and allow you to decide on any further cooperation
They are willing to challenge your assumptions and potentially refuse you (and this is not a bad thing, because you want a partner that honestly understands all the processes, is invested in building you the best possible project and bears full responsibility for their role in the development)
Conclusion
While comparing onshore vs offshore software development you may find out that an offshoring development system is a great opportunity to achieve your goals with maximum benefit. The detailed roadmap that we have created for you helps you understand the question – much does an offshore developer cost and what pitfalls are buried in offshore software development rates in various countries.
Having studied all the pros and cons of different continents in terms of cost for offshore developers, your search for a reliable developer partner will be effective with minimal risks.
Let's schedule a call to discuss all your needs!