Hire Highly Qualified Python Developers in Ukraine: How-to Guide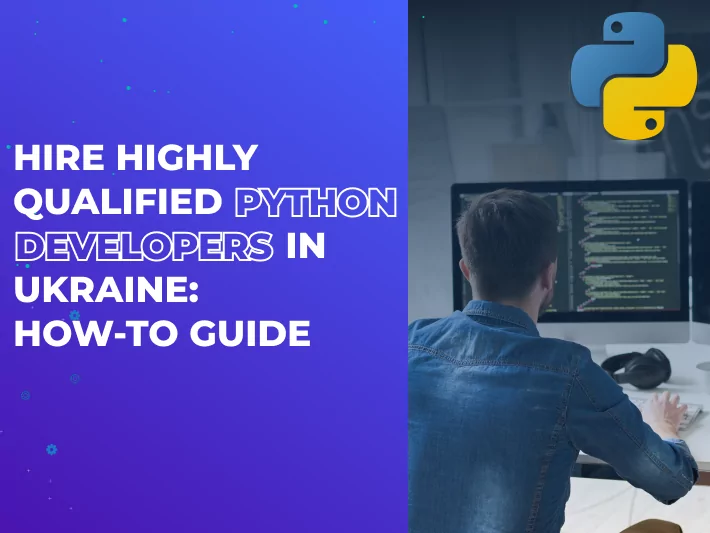 Python is one of the most popular open-source programming languages in the world today. Therefore, Python software developers are highly sought after. Most of them work on the web application backend. Python is particularly popular in AI and data analytics.
Therefore, to create an application that requires a lot of data crunching, Python is an excellent bet for your back-end stack. First of all, though, you have to figure out how to hire Python developers for your project. This article walks you through the process.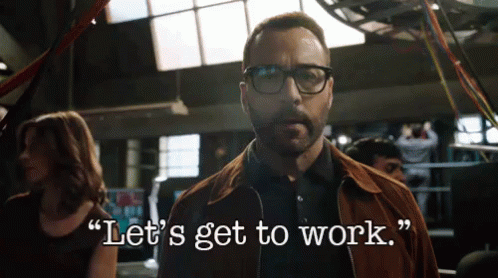 Roles, Skills, and Responsibilities of a Python Developer
Python is a very versatile programming language. So, Python developers fill all kinds of positions: software programmers, web developers, data scientists/analysts, Artificial Intelligence engineers, etc. The specific application of these proficiencies may vary according to business needs.
Back-end Programming
In server-side website development, Python developers connect web apps, web services, and components, writing reusable code and collaborating with the front-end team to integrate elements for the app and achieve full-stack compatibility.
Databases
Python developers interact with databases and manage data transfer within the code. Not just data scientists/analysts, every Python expert works with data and libraries such as TensorFlow, PyTorch, Numpy, etc. Hence, skills such as object-oriented mapping are required.
Testing and Debugging
Some Python developers are testing managers, and they must be appropriately skilled and experienced in Python test framework tools, such as PyUnit, Selenium, Pytest, Cucumber, etc., as well as maintenance duties.
AI and Machine Learning
While not every Python job has AI and ML applications, it is a huge plus if a developer is skilled in these technologies, as these are the concepts driving the future of business right now.
Front-end Technologies
Although Python is predominantly used in back-end development, proficiency in the primary front-end languages (HTML, CSS, JavaScript) would enable better project coordination with other development team members, including UI/UX experts.
Analytical Skills
To hire a Python engineer, they must be able to think systematically and logically to write cleanly optimized programs with code reusability. This requires a good understanding of algorithms and other core functionalities that underpin the Python programming language.
Reasons to Hire Python Developers
Why do you need Python developers? Would it make any difference if you hired developers proficient in a different programming language? Read on to discover what benefits an exceptional Python developer would bring to your business.
Scalability and Robustness
Python is a favorite programming language for many startups and enterprises such as Facebook (Meta), Spotify, Netflix, Spotify, Pinterest, etc., even at NASA. Such companies that deal with big data would benefit from hiring Python developers, who can design apps to handle complex processing operations and algorithms.
Innovative Programming Language
Python enables artificial intelligence, machine learning, deep learning, data analytics, etc. Hiring Python developers to develop relevant apps helps you position your business to stay competitive by leveraging future-proof technologies.
Community
When you hire a Python programmer, you gain indirect access to the larger community of development experts in the space. This enables you to seek and receive support for any complexity that emerges during the development process.
User-Friendliness and Ease
Due to the high competitiveness these days, to find developers for startups is tricky because they want to do everything faster and more efficiently. If this describes your company, you'll benefit from hiring programmers who can work well with Python for fast and effective product delivery.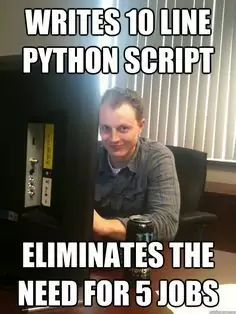 Versatility
In every Python developer, you get someone adept or potentially skilled in web development, software engineering, data science, AI/ML, and so on from Windows and macOS to Linux. Of course, one person cannot perform all these roles simultaneously, but no one would deny that cross-functional knowledge through architectures makes teams more robust and cohesive.
Where to Find Python Programmers
When filling some roles, especially Python-related positions, you have to do a little more than post a vacancy on your social media pages or job boards. You must actively seek out the talents you believe would be the best fit for your company. However, the first question you must answer is: where should I look?
Freelance Platforms
Upwork, Fiverr, Freelancer.com, and the likes are great places to find Python programmers for your project. They offer low prices and hourly rates but keep in mind that the people you hire from these platforms may be unreliable because of limited screening.
Outstaffing agencies
At ProCoders, we provide development services to clients that need to assemble a team for a project, beef up their staff strength, or temporarily fill gaps in staffing. They work on a reliable model that also ensures affordability.
Hiring Agencies
Also called recruitment agencies, these companies work as talent-matching platforms to connect companies with available candidates based on their talent pool. However, while they have an extensive talent pool, no doubt, it is usually a bloated network.
Review platforms
Platforms like Clutch and UpCity do an excellent job of helping you to find a Python developer. The most important thing you should focus on when using such platforms is the reviews from clients that each agency has done business with in the past.
Mistakes When Hiring Python Experts
If you are a founder looking to hire a Python programmer, but you are not skilled in Python yourself or even any programming, it is understandable that you might make some miscalculations. Yet, you don't have to; not if you arm yourself with advice from this section on avoiding common mistakes in the hiring process.
Not know what you need
You probably need a partner with suitable tech proficiency to determine what responsibilities the potential hire is expected to perform. However, this is not a problem when you hire through ProCoders. We walk you through a series of consultation sessions by picking the best developers to form your Python development team.
Let's check which developer fits you!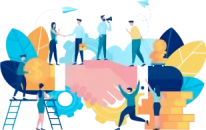 Assessing only technical proficiency
Every employer wants to hire the best person for the job. However, the project will run into unnecessary issues if this 'best person' has poor communication, teamwork, adaptability, work ethic, time management, and other essential soft skills. This is especially true when hiring foreign talents, where you underrate language differences because of technical proficiency.
However, ProCoders solves this issue by ensuring that all our developers can communicate in English very well to avoid communication friction.
Limiting your options to the local talent pool
In a way, sticking to local talents is a great business move, especially if your company targets domestic customers. However, in this modern world where every new startup dreams of taking over the world, restricting your hiring options to the local talent pool is a disadvantage. Instead, you can look towards foreign talents to lower hiring costs and access globally-oriented experts with sharp innovations.
Overrating or underrating credentials
Many employers don't understand how to value credentials appropriately. For sure, credentials are not a substitute for value. When you hire a Python development company, the balance you should aim for is this: hire candidates with the right aptitude who also have the credentials to back up their claims.
At ProCoders, we can boast of the skills of our developers because of the achievements we have deservedly won over the years: top-rated company on Upwork, top global staff augmentation company according to Clutch, and so on.
Interview Questions to Ask During the Python Developer Hire Process
Interviews allow you to learn about candidates before you hire dedicated Python developers. Ask them questions about their skills, experience, expertise, credentials, past projects, etc. Ask them questions about Python to be sure that they understand the intricacies of the language. If you don't know where to start, these questions will guide you.
What are the most recent Python development projects you have handled?
What role did you perform in the development of a Python application?
What are the biggest challenges you have faced in developing a Python application, and how did you solve them?
What Python libraries are you most proficient in?
How have you partaken in critical decision-making for any Python development project in the past?
Have you ever been part of a failed Python project?
Why did it fail, and what would you do differently?
What do you think are the most exciting features of Python?
What new knowledge have you gained in Python development?
What non-technical skills do you find the most useful in Python development? How do you apply them?
How to Make a Job Offer Template to Hire a Python Engineer
You must make sure that candidates are as attracted to your company as you are to their skills. This begins by crafting a perfect job offer template that describes the position, outlines the responsibilities, and clarifies the requirements.
Job Title and Introduction
Use a clear job title that states precisely what the person will do. A simple 'Python developer' or 'Python engineer' does not cut it. You have to specify if the role is an entry-level, intermediate, or senior role. Also, the introduction should include a company description and, possibly, a summary of the project to be executed (especially for contractor positions).
Roles and Responsibilities
Make this section as specific as possible. If you want developers to work with APIs, state it in the description and don't lump it up with a vague 'programming' responsibility. If your product concept requires robust security integrations, be sure to mention it too.
Let's check which developer fits you!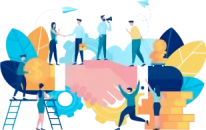 Skills
The skills should be specific and tailored to the project demands. For instance, you shouldn't just say that candidates should be skilled in Python web frameworks. You have to specify the frameworks, according to what your company uses/will use, whether it's Django or Flask or any other Python technologies.
Benefits/Perks
When you hire Python developers, you must acknowledge that they are choosing you just as you are choosing them. Therefore, if there are any perks or benefits that should make the position more attractive to candidates, you should list them too. Some omit this section, but it might just be the edge you need to entice your preferred candidate.
Comparison of Cost to Hire Python Developers Depending on the Country
Cost is a critical factor that drives business decisions. You want to get the most value for your money. To achieve this, expand your options beyond the local market. Compare the salary of hiring Python developers across different countries before making your decision. Your comparison table may be similar to the one below, which we have compiled using data from SalaryExpert to inform your decision-making.
| | | | |
| --- | --- | --- | --- |
| Countries | Entry-level | Intermediate | Senior |
| Ukraine | $16,037 | $26,579 | $45,503 |
| United States | $77,714 | $111,195 | $138,120 |
| Germany | $65,280 | $93,405 | $116,023 |
| India | $12,638 | $17,809 | $22,463 |
| United Kingdom | $56,199 | $80,412 | $99,883 |
4 Steps How to Hire a Python Programmer
The cost is one of the most important considerations for companies looking to hire a Python expert. However, while you want to hire the most affordable candidate(s), you should focus more on finding the right fit for the job. These four steps would help you identify who the best fit is for the position, depending on the project requirements.
Understand what the position entails
Python developers write code, understood. However, before even writing the job description, you must have a clear picture of the specific expectations of the job. This includes not just what the potential hire will do, but what you expect them to achieve for your business.
Evaluate hiring options
When you decide to bring in Python developers, you are faced with different options for how to go about this process: freelancers, hiring agencies, or outstaffing companies. Carefully evaluate these options and select the model that would benefit your company the most in terms of cost, time, and effort.
Find out how the Outstaffing model fits you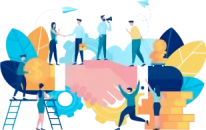 Assess Candidate skills
Even if you outsource hiring to an agency, you should conduct your evaluation to directly assess the candidates' skills. This would help you establish that the potential hire is the right fit for the role and your company. At ProCoders, we believe in forging a meaningful partnership with our clients such that even after assembling a team for a project, we let the clients meet with and approve the developers directly.
Make Hiring Decision
The most critical step to find a Python developer for hire is deciding who exactly you should hire and why. It would help if you already had a picture or a template of an ideal candidate so that when someone pop-ups in your radar who fits that picture, you know that they are the right person for the job.
Find and Hire Top Python Developers in Ukraine with ProCoders
It is no mistake that ProCoders has its base in Ukraine. Ukraine has a conducive environment for IT innovations. The time zone is favorable so that collaboration can be seamless. Ukrainian developers are more affordable than their western counterparts and deliver top-class results. Ukraine is ranked in many international categorizations of IT-enabling countries.
ProCoders has built upon this friendly atmosphere to connect with clients across the world by providing IT talents. Our model is flexible and adaptable to each client's requirements to hire remote developers. In Python application development, mainly, we have established our company among the best-in-class. Software solutions that we have successfully executed range from SaaS and IoT to business intelligence and customer management.
F. A. Q.
Why should you look beyond local talents to hire Python developers?
Hiring locally is a good idea if your company targets domestic customers, but for startups seeking to conquer the world, foreign hires can help lower hiring costs and bring in globally-oriented experts with sharp innovations. When hiring, local talent can cost less, but global expertise is also important.
How does hiring Python developers help your business stay competitive?
Python is a general-purpose programming language that can be used for many purposes, such as developing AI and machine learning apps. Hiring Python developers allows you to leverage these technologies to stay competitive in your field by building relevant applications that will help you attract and retain customers.
How should you interview Python developer candidates?
You can learn a lot about Python developers by putting them through the wringer during interviews. Create a list of questions you want to ask potential candidates before making a final decision. You should ask them questions to gauge their experiences and qualifications, as well as their ability to speak intelligently on the subject of Python.
Conclusion
Today's startups have to work with limited resources in terms of time and financial costs. Therefore, you want to hire a Python coder who can deliver results in a time-efficient manner. Look no further than hiring highly qualified professionals in Ukraine, and particularly ProCoders. ProCoders is a repository of software development talents. If you have a project that requires the highly valued skills of Python developers, reach out to us now to schedule a meeting.
Let's schedule a call to discuss all your needs!