Document Management System from A to Z. Part 1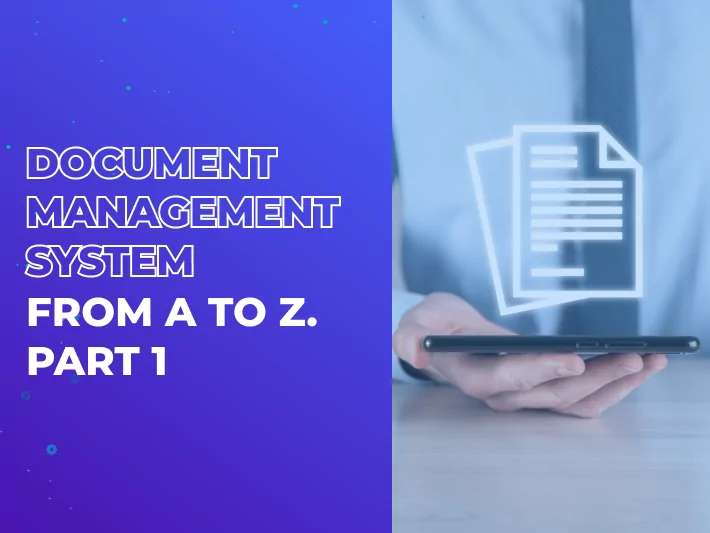 Any company sooner or later faces the need for digitalization and workflow automation. A well-built document management system (DMS) not only allows storing an unlimited number of documents on demand, but also significantly speeds up work processes in the company and increases overall efficiency.
At this point, the main question is how do you organize a DMS to get the most out of what it has to offer? Now, if you are thinking about integrating it into your day-to-day life, you need to know the basics. In this blog post, we cover all necessary information about document system management software, from definition to types and features.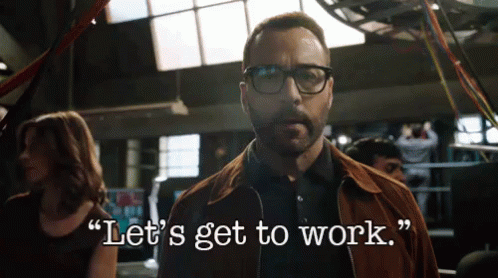 What Is a Document Management System?
An electronic document management system is essentially a software solution designed to store, organize, track and manage internal documents in an organization. The file types typically supported by EDMS include text, images, spreadsheets, audio, video, and web documents.
The sooner this software is implemented into the workflow – the better, since with time companies become cluttered with tons of paper documents, and it will take a significant amount of time to process it into the DMS.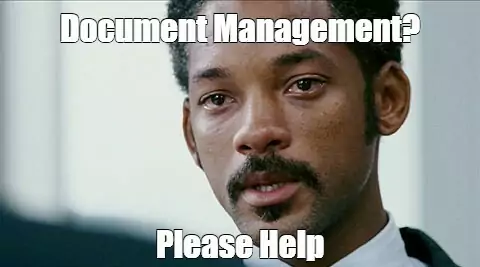 To sum it up, EDMS is a tool that acts as a centralized repository of all corporate data. It can be a standalone system or a part of a bigger corporate content management system, but the purpose for both of them is the same – simplifying the workflow and speeding up business processes.
Types of Document Management System Software
The most common classification criteria would be the location of the files and in that regard, the experts describe four types of document management systems: server-based, cloud-based, web-based, or database systems. We go further and offer a broader classification, as it is more prominent and includes the above-mentioned types in two large groups: cloud-based and server-based systems.

1. Server-based Document Management Systems
A server-based (also client-based, or on-premise DMS) system is installed on local workstations, connected to a Local Area Network (LAN), meaning you use internal servers and storage to manage documentation.
Pros
For one, they are highly customizable and companies can tweak the functions to reflect their particular needs and pains.
Companies that have a lot of sensitive information usually pick this DMS as it is the most secure type. An on-premise solution can be used even without the Internet.
Cons
Server-based DMS is more expensive, mostly due to its customizable nature and individual approach.
They require constant technical support to control the updates and upgrades, therefore companies with no IT specialists have to constantly outsource this service.
2. Cloud-based Document Management Systems
Cloud-based DMS, as the name implies, are hosted remotely in the cloud, which allows users to get access to the DMS from any device at any time. Companies like Templafy, M-files, DocuWare, and MasterControl provide this service. Today, cloud-based solutions are the most popular choice among enterprises, especially in industries that require a prompt response, like construction. However, it has its own downsides.
Pros
Easy to install and use. Since cloud-based DMS has to fit the needs of any company, it is extremely intuitive and user-friendly.
A monthly subscription charge makes it more affordable.
The company can choose a particular subscription plan to fit their needs based on the number of users, the size of the storage, etc. which makes cloud-based DMS highly scalable.
The software provider manages the updates and upgrades, as well as customer support.
Allows flexibility and remote work.
Find out how the Outstaffing model fits you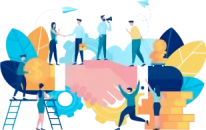 Cons
Very generic and might not address the needs of a particular company, if added features or customization are needed.
Users can fall victim to the downtime or side problems that service providers have, resulting in an inability to access documents.
Cloud-based DMS are less secure compared to on-premise systems.
As for web-based DMS, which was mentioned earlier, they are fairly similar to cloud-based DMS, but are even worse in security-related functions and have a weak customer support system, which makes them less reliable and robust. But they also are open-source, so if the company has little to no workflow and has no sensitive information, it can use web-based DMS to save money and effort.
Check developers availability
Database DMS, like Oracle, MySQL, FileMaker, or InfinityQS, can integrate with a lot of productivity software and provide a well-structured centralized database with all documents, where the data is easily accessible. Perhaps the most prominent benefits are data interdependence, security, and integrability (meaning it works wonders when several applications need to use the same data). However, these solutions are expensive and require more memory configured.
How to choose a DMS document management system software in this wide array of possibilities where the list of document management systems goes on and on? We suggest identifying the needs of your company, assessing the current workflow and predicting it for the near future, and then using the table to determine the particular type of DMS.
| | | | | |
| --- | --- | --- | --- | --- |
| Criteria | Cloud-based | Server-based | Database | Web-based |
| Customization | Weak | Strong | Strong | Weak |
| Fast scalability | Strong | Weak | Weak | Strong |
| Security | Weak | Strong | Strong | Weak |
| Cost-efficiency | Strong | Weak | Weak | Strong |
| Customer support | Strong | Strong | Strong | Weak |
| Remote work | Strong | Weak | Strong | Strong |
If you still have questions or are unsure what type fits your company, you can schedule a consult at ProCoders. We have extensive experience working with all things DMS and can evaluate your business to find the best and most efficient solution possible.
Let's schedule a call to start a Discovery Phase for your project!
Features of an Electronic Document Management System
A well-designed DMS should have certain features and capabilities to improve business operations at an enterprise. These features may depend on your requirements or the service provider's capabilities, but all in all, they are imperative for the software's quality performance.
1. Document Storage and Organization
The most simple and yet most important feature of the electronic document managing system. Each document should have its own place in the system, even more so, the organizational structure should be intuitive. This is a prerequisite for the longevity of the software, which will save a lot of time on training.
2. Navigation and Search
This applies not only to companies that register hundreds of documents per day, but also to small businesses. The search process should be as simple and inclusive as possible, with a broad selection of keywords or tags.
3. Security and Permission
Not all documents may be intended to be viewed by all employees of the company. To allow some employees to interact with documents, and bar some from editing or even viewing them, you need a function to set specific permissions.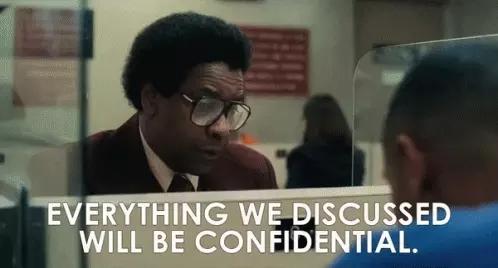 In the 21st century, the importance of digital security and safety cannot be overestimated. A perfect DMS has a strong backup feature in case of crashes and failures, as well as robust security features to avoid data theft.
4. Mobile Compatibility
Nothing provides the flexibility the way mobile applications do. Enabling compatibility with smartphones and tablets is a sure way to speed up operations at the company.
5. Document History
A feature that allows to see a document's edit history and retrieve previous versions is a must. A DMS should track all changes made to the document as well as who made them so that it's easier to manage and control the workflow.
Top 7 Benefits of a Document Management System
There are many notable advantages of using DMS document management system software, like:
Improved collaboration between employees due to the ease of retrieving documents.
Increased productivity now that more time is going to be spent on innovation and brainstorming.
Flexibility when it comes to working remotely, which in 2020-2021 gained more traction than ever.
Let's check which developer fits you!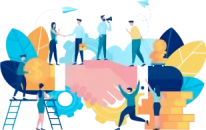 Storage space for paper documents can add up to a fair amount of money, especially in countries with high rent pay like the US or the EU. Having an electronic document managing system saves money on document storage, while also stopping office absorption.
Backup and recovery function prevents documents from being lost or torn. Paper documents also are subjected to other natural disasters like fire or flood.
DMS offers broad access to documents that now are available in an e-version rather than printed and stored in one room or building.
Better organization of the documents that result in better categorization. With robust indexing and well-made searching feature, you can find a document (or even all documents related to the one you need) easier and faster.
How to Understand that Your Business Needs a Document Management System?
Even for a small enterprise document management system is a lifeline, but how can you be 100% sure your company needs a DMS?
The most obvious reason for choosing this software would be a never-ending influx of documents that only gets bigger over time. With DMS, you can be sure they are safe and accessible any time of the day.
Another sign is the inability to process the information quickly and efficiently, since you need to draw up correspondence and drawings to attach to each incoming document. In other words, your current workflow system is inefficient and time-consuming.
F. A. Q.
What exactly can document management systems do?
The DMS is a multipurpose tool that can capture, index, categorize, tag, edit, retrieve and delete documents on demand. It also helps employees to collaborate and work together on a file, much like in Google Docs.
How does document system management software work?
The DMS captures a document (it can be a paper document, an email, a report, or other files) and indexes it right away, so later on it's easier to find a document. The files are then placed into the Central Document Storage to first, enable centralized access, and second, ensure data security.
Then when needed you can search for a document using tags, keywords or navigation and retrieve it any time you need.
What are the types of document management systems?
There are four main types of DMS: server-based, cloud-based, web-based and database. The most popular is cloud-based mainly due to its availability and user-friendly interface, however big companies tend to use server-based DMS as it is more secure and customizable.
Conclusion
A document system management software is an indispensable tool that helps systematize documents, and even more so – to extract knowledge from people's heads and solidify it on electronic media.
Transitioning to DMS and automatizing the workflow can save valuable time and resources, ensuring quick and prompt responses to any given situation. At ProCoders we offer DMS solutions for companies for more than 10 years, so if you are looking for a reliable, reputable partner to build Document Management Software with, we are here to help. Schedule a consult or give us a call, and we'll make your business successful.
Let's schedule a call to discuss all your needs!