How to Successfully Hire Vue.js Developers for Your Project in 2021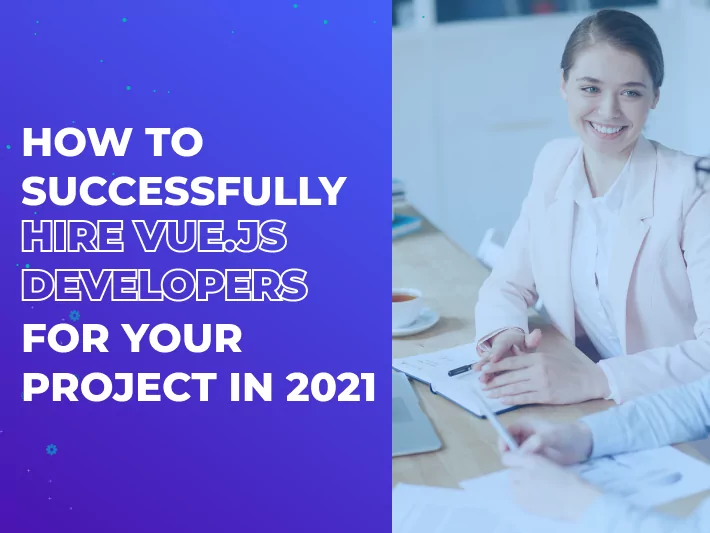 Vue.js is a rapidly evolving development framework. It has a lot of benefits, as would be explored in this article, but it has not quite gained as much ground as other more established frameworks. Yet, there have been some popular apps and websites built with Vue.js, including Behance, GitLab, Keap, Alibaba, etc. In ProCoders' experience, we have designed a number of functional Vue.js web apps for companies in various countries.
It is on a good course, though, but many business leaders still struggle with how to find Vue developers. Some good news here: the Vue.js developer hiring process is not as complicated as you must have thought. In this article, we break down the basics of how to hire Vue.js developers that give you value for your money.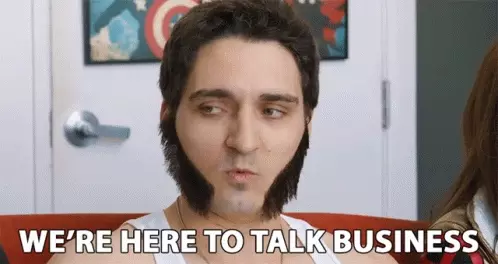 Vue.JS: Short Intro
Vue.js is described as the 'progressive JavaScript framework'. Created by Evan You 7 years ago, it has gone on to become one of the most popular JavaScript frameworks globally. Vue.js is designed to be increasingly adaptable and so ensures a versatile and scalable development process. As a frontend framework, it uses the model–view–viewmodel architecture. So, it is easy to integrate the view layer of the core library with other libraries, resources, and projects.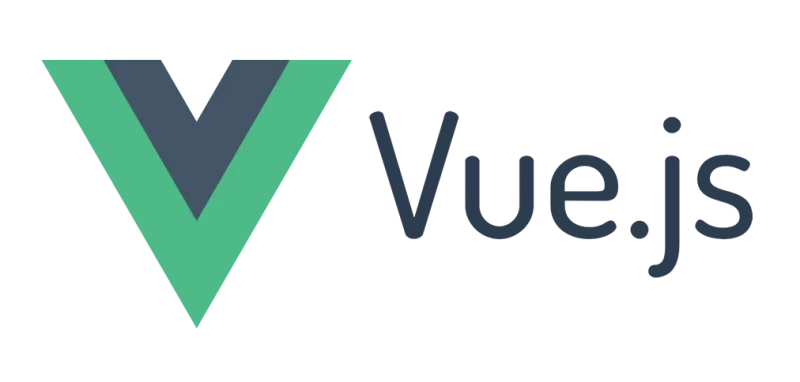 Compared with other popular JavaScript frameworks, Vue.js is very lightweight and easier to master. All a developer needs to learn Vue.js is knowledge of HTML, CSS, and plain JavaScript. That's unlike React, which requires knowledge of JavaScript XML (JSX), and Angular, which requires knowledge of TypeScript. Vue.js differences from AngularJS are mostly related to performance. The latter is slowly going outdated, and its two-way data binding is less efficient than the one-way data flow of Vue.js.
Therefore, Vue.js has increasingly been the choice of many developers and companies over the past years, and it is expected to grow even bigger in the coming years. As such, smart business leaders are looking towards how to hire Vue.js programmer so that their businesses can compete now and in the future.
What You Need To Know Before You Start Hiring
These are some of the existing developer hiring models explained in this section:
In-house development
Staff augmentation
Outsourcing
In-house development
The traditional employment model involves building a permanent team of developers with monthly salaries and other typical employment benefits (financial and non-financial). These developers may work on-site or remotely, but the characteristic feature is that they are employees (not contractors or freelancers) of your company. It is suitable for large enterprises.
Staff augmentation
This is a more flexible hiring option that allows a company to quickly fill gaps in a development team. With staff augmentation, you can hire Vue developers to become a part of your team for a limited period of time. Such a developer functions more like a contractor and they are not part of your full-time staff, even though they must be as committed to the project during that period.
Find out how the Outstaffing model fits you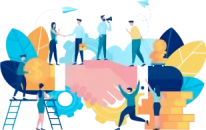 It's a smart move which ensures that the project does not slow because of a particular skill that's lacking in the team. It is suitable for both startups and large enterprises that want to hedge their team's skills.
Outsourcing
Some companies may prefer to have a different company entirely handle how to find Vue.js developer for them. There are many software development companies (core hiring agencies or outstaffing agencies) that recruit developers and build development teams for clients. This option helps a company (the client) to save money, time, and effort on an elaborate recruitment process.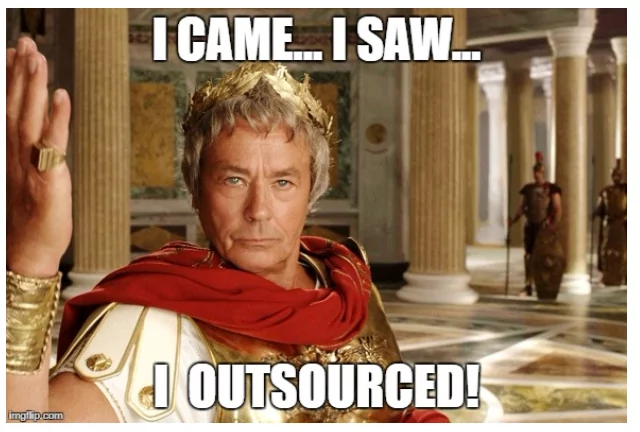 Also, it is affordable in that it may help you bypass expensive local hires to hire Vue developer from offshore locations in foreign countries like Ukraine, India, Mexico, etc. where talents are cheaper but still of high quality. Staff augmentation is a temporary arrangement to close gaps in your team, whereas when you outsource, you entrust the entire project to a third-party. It is suitable especially for startups that may not have adequate resources to hire full-time.
Some Tips for Vue.JS Programmers Hiring Interview
Education
More and more companies are doing away with the college degree requirement for hiring programmers. However, in the development space, a Computer science degree remains helpful for most developers. Of course, one can become a fantastic programmer without a computer science degree.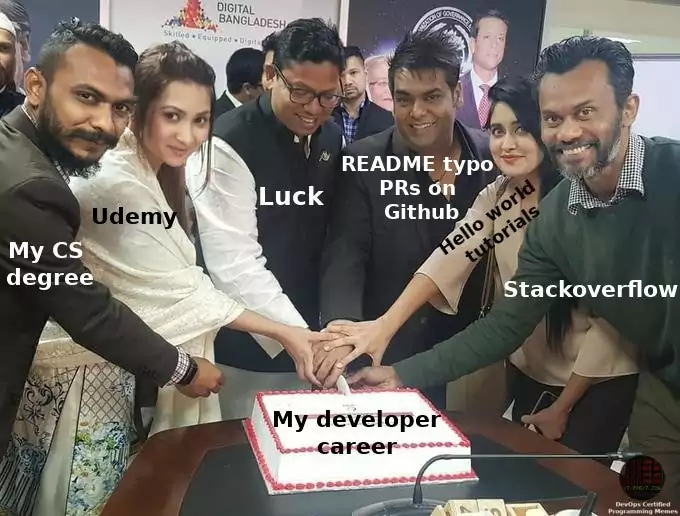 However, having a theoretical background understanding of computers, algorithms, and networks expands a developer's capacity for decision-making. Therefore, even if you do not have a degree requirement for hiring developers, ensure that candidates have a basic understanding of computer systems.
Experience
Experience is an important part of the hiring process for any candidate, regardless of the field. However, for Vue.js developers, you should not just look at the length of a candidate's experience. You should also consider the quality of their experience, assessing what solutions they have solved, platforms they have built, results that they have delivered, and so on.
Let's check which developer fits you!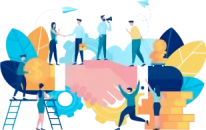 Also, you should consider the relevance of their experience. If a highly skilled candidate has not worked on any project in your industry, consider assessing them based on their transferable skills from previous projects.
Certifications
Certifications are proof of knowledge. However, there is some debate about the usefulness of certifications in the development space. After all, why does certification matter if a person can code very well? In any case, certifications are still important in many hiring considerations, and for a good reason.
Acquiring certifications demonstrates a willingness to learn. Software development is a rapidly evolving space with new innovations every now and then. Therefore, the ideal candidate should be open to learning new things whether by formal or informal means.
Skills
Of course, what makes a proficient developer is what skills they have had. Before hiring a Vue.js developer, be sure to have outlined all the required skills for the job, matching each skill and level of proficiency to the candidates. Do this for both hard and soft skills. Some elaboration is given below.
What About Soft Skills
A developer does not just have to be highly skilled, they should also be able to perform well in collaborative settings. That means when interviewing developer candidates, you should try to find out what it is like to work with them. This will help you determine, for instance, if they are a good cultural fit for your company.
For roles such as senior developers, ask them about their experiences working with junior developers to determine if they are great leaders and team players.
How to Check Hard Skills
You can determine the hard skills of a developer by asking technical questions during the interview stage or by setting up a live coding test. Instead of focusing on purely knowledge-based answers, ask them questions about their past work experience to gain insights into the type of projects they have handled, technologies and tools they have worked with, methodologies they have used, solutions they have provided, and so on.
Where You Can Successfully Find Vue.JS Experts?
Now that we have broken down the hiring process, the question that remains on your mind probably is this: where can I find vue.js developers for hire? Once you know where the best programmers are lurking, how to hire Vue.js experts becomes quite easy.
Outstaffing Company
An outstaffing company, like ProCoders, provides clients with software developers that they have prequalified. An outstaffing company is different from a hiring agency, which will source new developers from the market based on the client's requirements. Instead, an outstaffing company has developers in its employment already; once a project comes in, it assembles a team for the client to carry out that particular project.
Check Vue.js developers availability
Pros
No direct legal obligation to the employees. You are not directly responsible for vacation, sick days, and other allowances and fringe benefits. The outstaffing company handles all that.
Lower development costs; avoid paying huge salaries, high taxes, insurance, etc. The outstaffing company handles all these. In certain places, such as Ukraine, the cost is even lower than what's obtainable in America and Eastern Europe.
Process optimisation. The in-house team can focus on the core tasks while other responsibilities are delegated.
At ProCoders, you have direct control over your project with staff augmentation.
Cons
Possible communication barriers. However, at ProCoders, we have to mitigate this challenge by employing developers who are fluent in English, so that they can establish good communication with clients.
Risk of data leakage. At ProCoders, we sign a Non-Disclosure Agreement (NDA) with every of our clients to assure them that their data is protected.
Freelancing Platforms
Platforms such as Upwork, Freelancer.com, and alternatives (Toptal or Fiverr) allow you to hire Vue.js developer as freelancers to work on specific projects. The freelancers get paid by completing milestones or after the project is finished. Freelancing platforms might be great for staff augmentation (when you need a developer to fill in a gap in your team) but not for assembling an entire team, since you need to make different agreements with different freelancers.
Pros
Cheaper to engage. On the other hand, you have to be wary of beginner developers.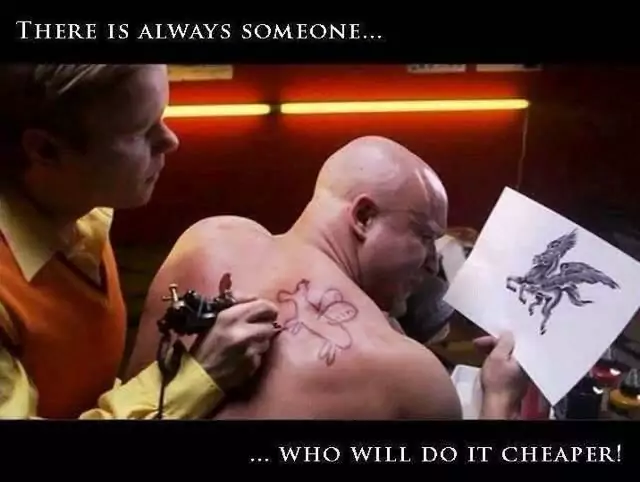 Offer flexibility for upsizing the team even though you are still responsible for the hiring process.
Freelancers are driven to meet the satisfaction of clients since they mostly depend on reviews.
Cons
There is no maintenance support after the project. This is unlike outstaffing where you can always reach out to your development team for all your maintenance and support needs.
Inefficient screening process because you have to evaluate the freelancers mainly based on reviews.
Freelancers don't provide guarantees; they can disappear at any moment with your data. However, staff augmentation companies do.
Hiring Agencies
You can use hiring agencies for staff augmentation or for recruiting developers to join your in-house team. Hiring agencies help you to save time and effort on going through the whole recruitment process, going through applications, conducting interviews, etc. Instead, you only give the hiring agency your requirements (skills, education level, experience, etc.) and the agency goes to work to source talents for you from the market.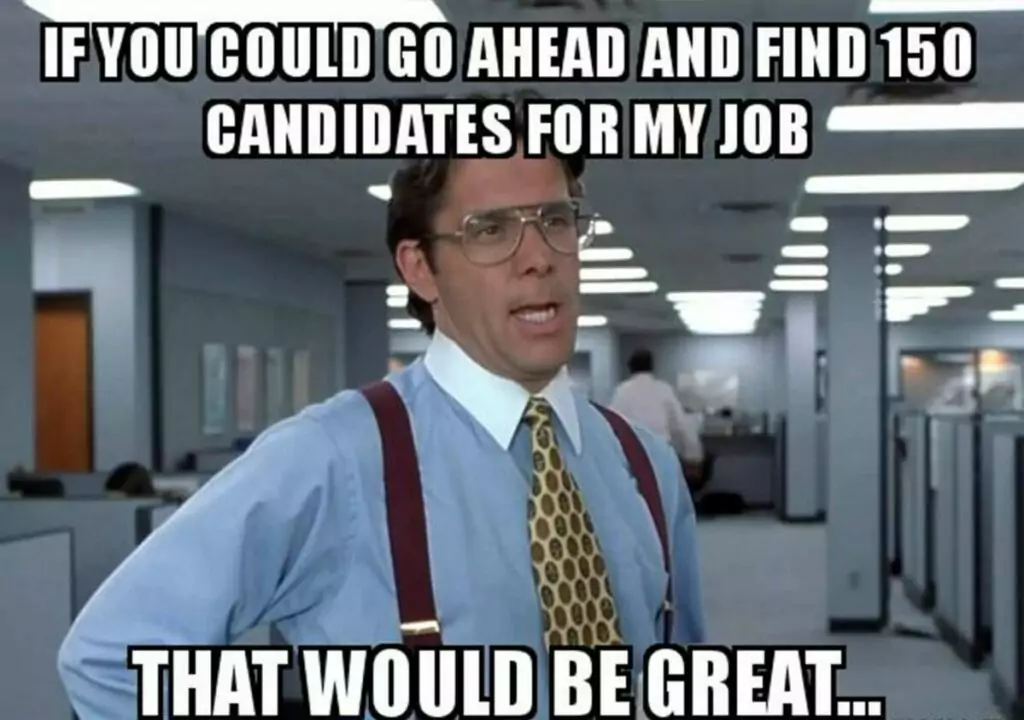 Pros
Hiring agencies are better for finding highly specialised talents because the recruiters fully understand the market.
Shorter hiring process.
Flexibility to hire Vue.js programmer for short assignments.
Cons
High cost of recruitment fees.
Hiring agencies can't guarantee the cultural fit of candidates to your company.
Developers are not employees of such companies, you are. And you are responsible for salaries and allowances. There are possible legal issues in the process.
How to Find Vue.js Development Company And Solve Your Hiring Challenges?
Hiring a development company is a great way to solve your hiring challenges, especially since this space has become even more competitive. However, it's hard to look for a good development company if you don't know where to start. So, first of all, what makes a good development company?
A Rich Portfolio: a company's portfolio is a display of its best projects, as well as demonstrating the breadth of its experience. Analyse the past projects of the company, the technologies used, the composition of the teams, and the results, and determine how this fits your company's objectives for hiring Vue.js developers. ProCoders has had experience working with clients across different countries.
Get our clients' contacts to discuss their experience with us!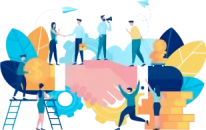 Skilled developers: this is obvious but a step that many leaders miss when hiring software development companies. Besides the range of the company's experience, you should also have direct interactions with their developers to ensure that they possess adequate skills and experience. ProCoders has tens of highly skilled talents available.
Support: if you want to retain great control over your project, you must find Vue.js developers for hire in a company that provides excellent technical support. That is, it offers you direct access to the developers working on your project, without simply having to go through a liaison. There should be seamless, transparent communication between either party. At ProCoders, we consider our clients as partners and we are ready to collaborate with you for the success of your project.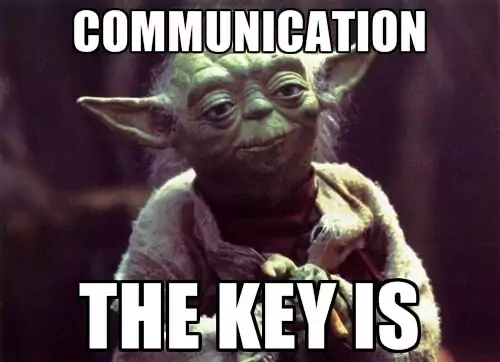 Performance: you should also assess the history of the company's performance. How fast do they deliver projects? How does the product compete in the market? How rigorously do they test products before deployment?
Testimonials: of course, you shouldn't only look towards what the company says about itself. Also, consider what the company's past clients have to say about the process. You may request the contacts of past clients to ask for direct reviews. At ProCoders, we provide you with the contact details of our previous clients, so that you can talk to them directly.
How Much Does It Cost To Hire a Vue.JS Developers: Hourly Rate and Salary Comparison
This section mainly answers the question: how much does a Vue.js developer cost to hire? Here we break down the average costs of hiring Vue.js developers from strategic locations so that you can know where to find Vue.js experts that are affordable and meet your needs.
| | | | | |
| --- | --- | --- | --- | --- |
| | Entry Level Vue.JS Developer Rates | Junior Vue.JS Developer Rates | Middle Vue.JS Developer Rates | Senior Vue.JS Developer Rates |
| US | $35/per hour | $50/per hour | $100/per hour | $150/per hour |
| Ukraine | $25/per hour | $35/per hour | $40/per hour | $60/per hour |
| UK | $30/per hour | $40/per hour | $55/per hour | $75/per hour |
| India | $20/per hour | $35/per hour | $45/per hour | $70/per hour |
How ProCoders Team Can Help You to Hire The Best Vue.JS Developers?
ProCoders have executed standout projects using Vue.js technology. Notable examples include projects for HANDLE, a medical equipment sales company and Blue-o-Two, a tour company. In the first case, we built a comprehensive logistics tool for Capital Cycle Management that enabled the company to manage its warehouses better via real-time asset tracking and predictive analytics.
This happened in 2020, at the height of COVID-19 and we could still deliver excellent results, cutting time to market by 30%, saving costs by up to 40%, and increasing income by another 30%. In the second case, we built an app that allowed customers to book tours. The company's staff could also make changes and updates from the backend without writing a single line of code.
We're ready to help you get your latest Vue.js projects completed on schedule and within budget. You can hire Vue.js developers from our pool of dedicated staff, or through our flexible staffing model, which allows you to tap into an experienced team when you need it, then move on when your project is complete.
Whether you need to bring on an initial team or scale up your development team, we can help. We have an extensive network of Vue.js developers with the skills needed to take on any project, big or small. We also offer dedicated support for your team after they're on board. Our teams can help you establish best practices for using Vue.js, develop strategies for integrating the technology into your existing apps and build new projects from scratch.
F. A. Q.
Where Can I Find Vue.js Developers for Hire?
Once you know where the best programmers are lurking, how to hire Vue.js experts becomes quite easy. The popular options are through an outstaffing company, a freelancing platform, or a hiring agency. Those are the three options discussed in this article although you can find and hire Vue developers via other, non-conventional means, on social media, for instance.
How Much Does a Vue.js Developer Cost to Hire?
In this article, you find us break down the average costs of hiring Vue.js developers from strategic locations so that you can know where to find Vue.js experts that are affordable and meet your needs. Rates are collected from five countries namely the US, Ukraine, UK and India.
How do you find a good Vue.js development company?
Hiring a development company is a great way to solve your hiring challenges, especially since this space has become even more competitive. However, it's hard to look for a good development company if you don't know where to start. We explain how factors such as having a rich portfolio, providing excellent support, and consistently good results, among others, can help you choose a good Vue.js company.
Conclusion
Hiring a developer is a big decision. You need to consider what skills you need, how much time you need them, and whether they're remote or in your office. There are many factors you need to consider when choosing Vue.js developers, and each of them has a very important role to play in your project.
Are you using Vue.js in your project today? Are you thinking of switching to Vue.js? This is a great time to make the switch. Vue.js is rapidly becoming the go-to framework for modern web apps. There is no better team to handle your Vue.js projects than ProCoders. Our projects for companies such as HANDLE, Blue-o-two, SDCN, etc. are proof of this, all 30+ of them created using Vue.js. We deliver the best quality; contact us today.
Let's schedule a call to discuss all your needs!