HTML Web Developer Salary: Comprehensive Overview and Hiring Guide
Nearly every web application project needs a good website programmer that's well versed in HTML. Why? Because they're often the programming "glue" that holds a project together. They use HTML to bring a website designer's vision to life, ensuring that the designs they create have a consistent look on every platform, integrating the frontend, or user side, of the site to the data and delivery systems on the site's backend.
A good HTML developer marries your design with the programming you need for your site to run smoothly. So it's no surprise that salaries for HTML web developers from the junior to senior level are on the rise, and programmers with the right skillsets are in hot demand.
Get HTML Developers Rates
In fact, the United States Bureau of Labor Statistics reports that jobs in web development will grow by 8 percent between 2019 and 2029, a rate that's faster than the growth of the overall economy. Meanwhile, developer positions continue to grow globally too: according to Statista in 2021 around 56% of developers used HTML as their programming language of choice. HTML developer's salary analysis shows that despite the growing number of coders the demand for this language is still quite high. As of 2022, the average salary of a U.S. HTML coder is $94,491 a year (in 2021 it was around $87,562).
So with all this demand driving the market, what's the average salary for an HTML developer, and what should you expect to pay, based on expertise level? What skills and output should you expect from the HTML programmers you hire? This article will answer all your questions. But first, let's start with the basics.
What does an HTML developer do?
An HTML developer's salary depends largely on their experience level, the programs they know, and the cost of living in the market where they are located. It will also depend on the importance of their role in your organization.
Any HTML web developer worth their salary will have at least the average, junior level skills to incorporate HTML into your web design. They'll use the Hypertext Markup Language to ensure your site displays as it is intended, runs quickly, and smoothly integrates with all your existing systems interfaces. They should understand how to comply with all your development and security protocols.
A good HTML programmer will be an invaluable member of your team, helping you not just build your website, but make sure your updates and improvements work as planned, and your multimedia is quick-rendering. They guarantee that your website scales properly, no matter how many times it is updated.
Any HTML programmers you hire should have a bachelor's degree, or at the very least, a proven portfolio of work in the language. Ideally, they'll have both. And that will have an impact on any HTML web developer salary.
Average Salary for HTML Developer by Experience
Junior HTML Developer Salary
A junior programmer must do everything we just mentioned above, and usually has 0-3 years of experience. They handle frontend design programming paying special attention to user experience, and routine maintenance. Their work is closely managed, and they operate as part of a team, usually under the watchful eye of a senior programmer.
So how should you calculate junior HTML developer salary? Check out this chart outlining HTML developer salary levels from Simplyhired.com:

As you can see, this chart shows an average entry level HTML developer salary at $68,323, reflecting pay levels in the United States, one of the world's highest-paid markets for programmers. The range of pay varies based on whether the programmer lives in a city where the cost of living or the competition for talent is highest.
Check HTML developers availability
For instance, an entry level HTML developer salary in Silicon Valley would be at the top of the scale at $100,000 plus, as living expenses could be double what they might be in a smaller city, like Charlotte, North Carolina. Salaries for entry level HTML developers can also be less than half this amount if you hire in a lower-cost country, like Ukraine, which we'll talk about in a minute.
Salaries for Middle Level HTML developers
Like the salaries for entry level HTML developers, middle-level programmers are paid based on their competence with HTML. However, mid-level programmers have approximately 3-5 years of experience, which means they need less supervision and can handle more complex functions. This chart, from salary.com, shows the median salary for programmers at this level, with variations based on location and demand.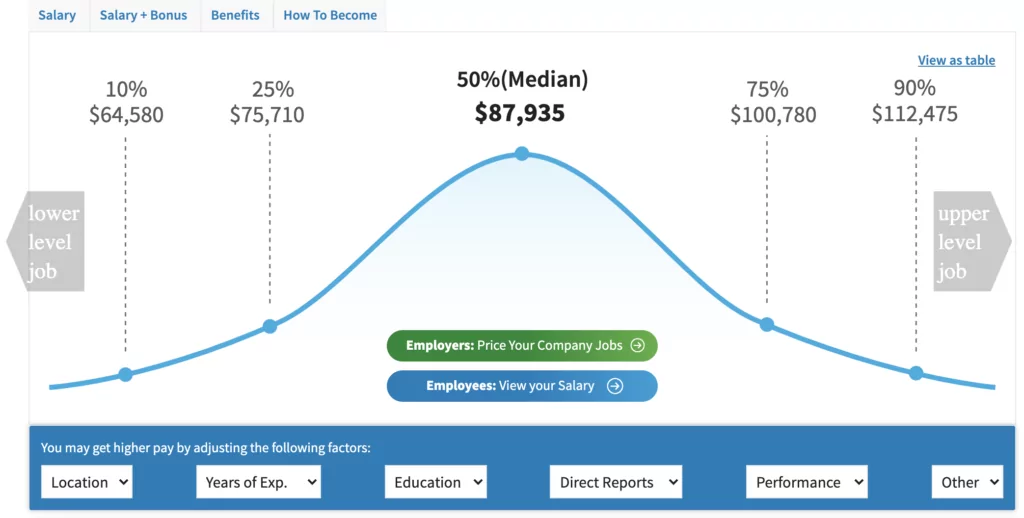 Salary for HTML Developer: Senior Level
An HTML Developer's Salary depends on many things, none of them more important than that "in the trenches" experience. To be considered "senior," a developer must have at least five years of experience, and the ability to not just work independently, but to strategically plan site architecture and user experience from the ground up.
Developers at this level often lead teams and can help you greatly with production planning. They are also far more likely to have deep experience in your industry vertical — an essential understanding that allows them to recommend first-to-market website strategies.
This US-based estimate from salary.com shows senior HTML programmers clocking in at a whopping $119,203 as an average salary. Companies needing to hire senior programmers with experience in a hot industry or expensive, a crowded market can expect to pay even more than the median point presented here.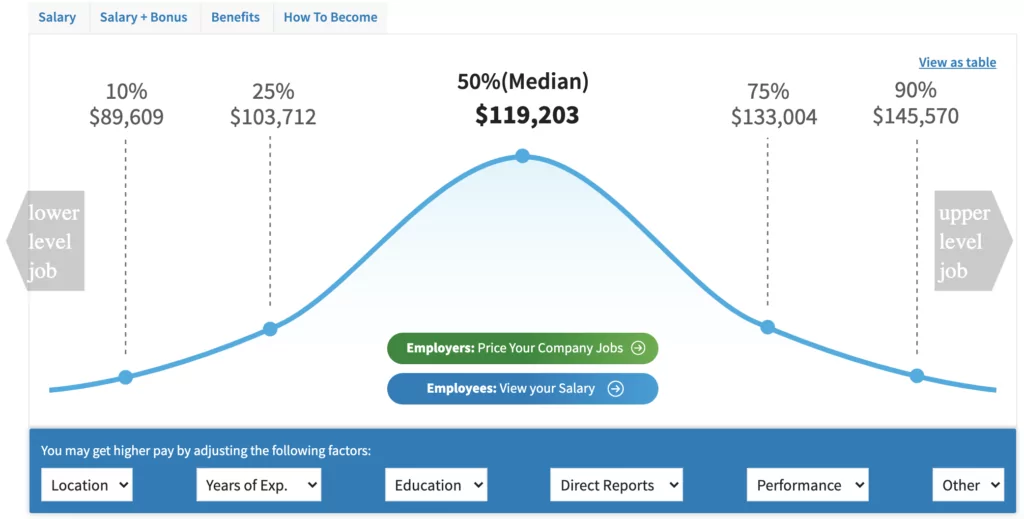 Average salary for HTML Developer by Hours and Regions
Hourly average salaries for junior, senior, and middling level HTML web developers can vary wildly depending on the region where the talent lives and works.
This is mainly and manifestly because of the cost of living in that city. But the relative number of programmers vs. demand can also be a factor. For instance, there are certain areas where tech innovation is high, and the local need far outstrips demand, like in San Francisco.
Still other areas, like Ukraine, are graduating more than 100,000 tech students each year — enough to outsource that talent to other countries at very reasonable rates. With a little research and a willingness to look outside your hometown, you can often find auxiliary development help that won't break the bank. Salary for HTML Developer staff can cost you far less.
| | |
| --- | --- |
| Country | Hourly Rate |
| United States | $60-80 |
| United Kingdom | $60 |
| Israel | $35 |
| Ukraine | $25-35 |
| Canada | $60 |
What Factors Can Affect the Salary?
There are many reasons why one developer might cost more than another. Here are some of the questions you might ask a candidate, to determine if they are truly worth the price.
What degrees have you earned? Programmers with a bachelor's degree can command a higher salary than a self-taught talent, especially at the beginning of their career
What certifications do you have? It helps if your programmer can produce proof they have earned specific certifications in the languages and frameworks they claim to know. The more certifications, the deeper their knowledge. And if you need a programmer with certifications in a less-common or more difficult language, that generally costs more
How long have you been working as a developer? This is an obvious one. The more years' experience, the higher the price
Do you have management experience? This question is key if you're looking for senior HTML talent. It's not enough to have experience managing a team of people. They should also be able to show that they can provide strategic direction at the website architecture stage, helping to guide user experience from the ground up
Find out how the Outstaffing model fits you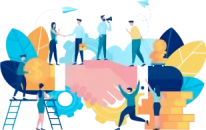 Do you have experience in my industry vertical? This is especially important at the senior level, too. Your website applications have to compete with all the other companies in your market space. Your HTML developer, like all the other members of your team, should have a good grasp of your target customer's expectations. They should know what the standard is among your competitor's websites and be able to make user-experience suggestions that would have a certain "wow" factor in your vertical
How Do I Hire an HTML Web Developer for My Project?
If you're not keen on the idea of the expensive process of posting, interviewing, and onboarding a new member of your internal development staff, then offshoring your talent may be the right choice for you. Fortunately, there are plenty of IT Staff Augmentation companies that would love to help you find HTML talent, us included. We can help you determine a salary for HTML Developer talent that meets your budget.
But not all offshoring companies are created equal. Many merely act as matching services, pairing you up with talent they don't know and can only minimally vet. Once you start working with them, they may have poor English language skills, poor planning/programming skills, or worse.
At ProCoders, we pride ourselves on offering our clients the best in HTML developer talent, delivered with high-touch customer service. We believe when you work with an IT consulting company, you should receive:
The ability to onboard talent within two days to two weeks, maximum
Vetted talent matched specifically to your project needs
On-staff talent, meaning that the outsourced developer you contract with is a regular member of your outsourced staff — not some random talent they've found off a job board
The ability to manage your outsourced talent directly, and plug them into your existing project management systems
Developers who speak, read and write English fluently
No hassle billing without surprise fees and add-ons
Staff dedicated entirely to you, for the duration of your contract
Overlap with your business hours, even when you hire outside your home country
What Do I Need to Know Before Hiring an HTML Developer?
Before you begin your quest for more programming talent, it's important to have your parameters in place and understand the criteria you'll be using to judge your candidates. You'll want to have this information in hand before you have any conversations with prospective programmers:
Your budget
Your timeframe for completion, and any ongoing needs you may have
Legacy programs/data systems they'll have to incorporate
Security systems and concerns
Languages/Frameworks/Libraries/Plug-ins they need to have mastered or be certified in
How your digital funnel works, and what your key performance indicators will be for your application
Your expectations for reporting and project management
When you are able to clearly articulate your needs and expectations and have your HTML basic interview questions prepared, you'll improve your chances of being matched with the right talent for your company, saving you time and money.
Conclusion
How much should you invest in HTML Programmer Salary expenses? The answer is: it depends. HTML programmers are a very diverse lot, and how much they are "worth" on the open market depends on a number of factors, including their experience level, number of certifications, experience in your industry, the level of management you require, English skills, and especially the country where they reside.
HTML Programmer salary and hourly rates can vary as much as 50 percent between lower-cost markets and higher-cost ones, so it pays to do your homework, and know what you need before you begin the recruiting process. Fortunately, there are plenty of outstaffing firms, including ProCoders, who'd love to help you make the process of onboarding an HTML developer an easy one. Contact us today, for a free consultation!
Let's schedule a call to discuss all your needs!