Backend Developer Average Salary Roadmap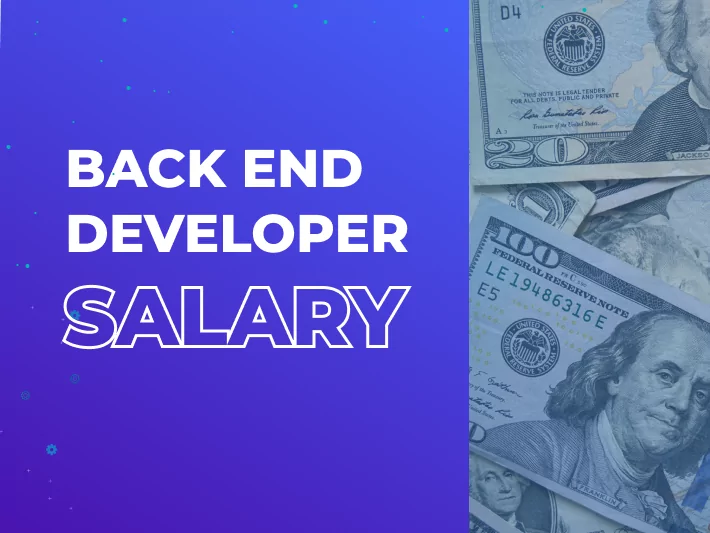 How much should you pay for a backend software developer's average annual or hourly salary? The answer depends on many factors — namely where your company is located, where your developer lives, what programs they are proficient in, and so much more.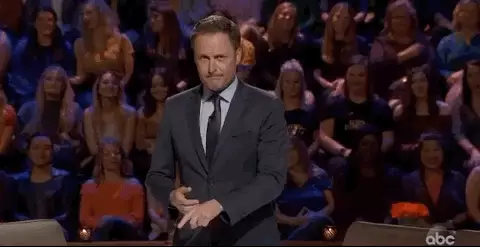 Backend developers are key to your team — making sure your applications and systems live up to their promises. Here's what they expect from their employers — and what you need to know to hire an experienced talent and treat them right.
What Does a Backend Developer Do?
This member of your development team is primarily concerned with the interaction of your server-side data with the frontend, or user side, of your web and mobile applications. Your UI/UX designers and frontend developers will create a user experience and interface that your customers see. The backend developer makes sure all the server-side programming is doing its job.
Let's check which developer fits you!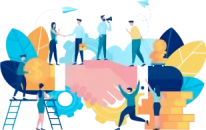 For instance, if you have a fitness app that allows customers to book and pay for classes on a constantly rotating schedule, the backend developers would make sure the class data was integrating and updating properly, customer account information was getting served up, and payment was processed and directed into your bank account.
They are critical to your success as a company, and it's important to hire backend developers that have the programming know-how to interact with your systems, and preferably, experience in your industry vertical. You need to ask good backend developer interview questions in order to check the skills and experience of your future employee. Working with the rest of your team, they should be able to advise you on what a world-class server-side protocol looks like for companies in your industry, so you can stay competitive.
So when you're calculating your backend software developer salary, it's important not to cut corners. It's still a seller's market out there and the talent market is tight.
What is Backend Development?
Backend development, to put it succinctly, is database programming and management. Whether you're developing a mobile or web-based application, you must have programmers who can work with your Object Relationship Manager (ORM) that will tie your client-side and server-side frameworks together.

Back developers work at a more abstract level, working with your raw data, as well as the Application Programming Interfaces present on the client-side. Effective backend development knits everything together as a working whole, and the average backend developer salary reflects that. They are typically the higher-paid members of your team, depending on their experience level.
Why? Because they are expected to be expert-level programmers using Python (if you want to hire Python programmer), JavaScript, Java, Node.js, PHP, Ruby, and C#. As a result, Back-end developer salary rates average about $75,000 a year in the United States, according to Glassdoor, and can go up to $117,000 for senior backend developers.
Get Backend Developers Rates
What is Full Stack development?
Essentially, a full stack developer is a programmer capable of developing your frontend user interfaces, as well as your backend server-side logic. They are the whole package, capable of taking care of the lion's share of your development needs.
So, it follows that "Full Stack development" is any project or effort by your company that requires you to build the frontend and the backend of your application at the same time. This is generally done by programmers who have all the programming experience we mentioned above, as well as experience with version control, security best practices, visual design and user experience.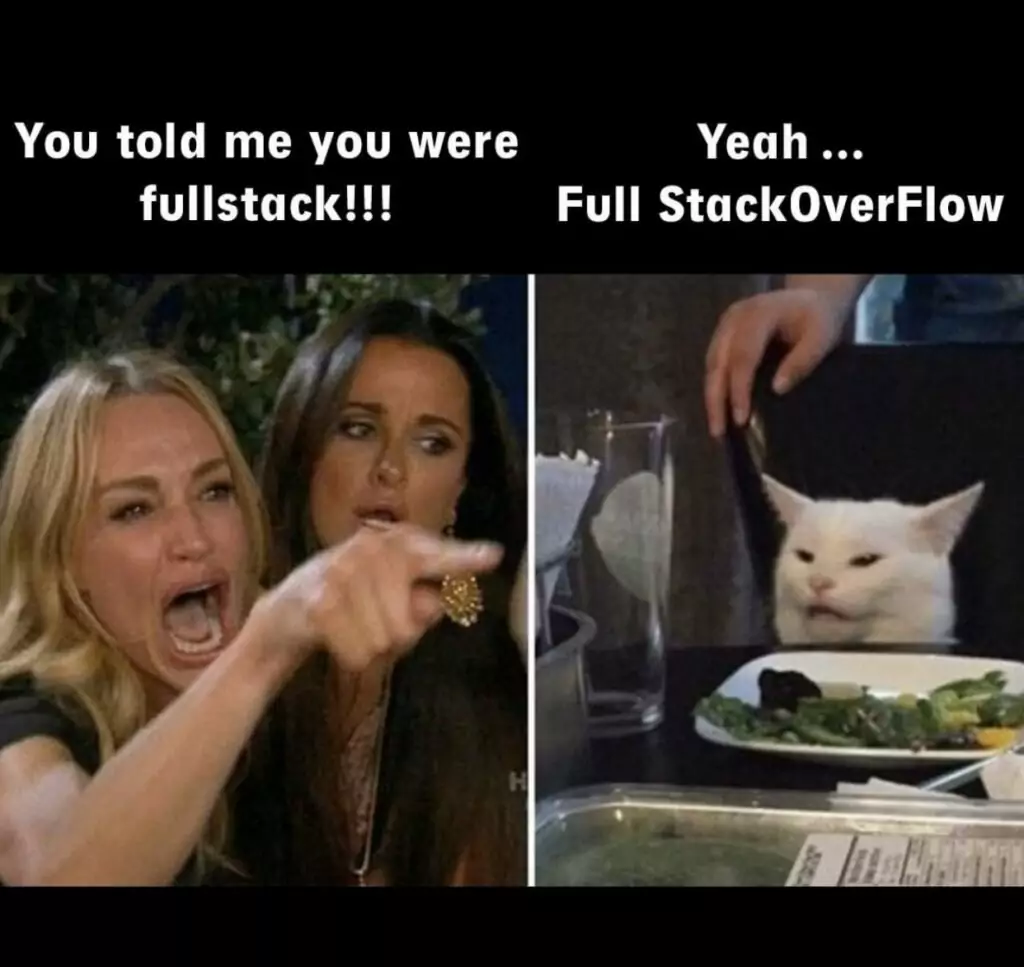 Entry-level full stack developers can rest with just the qualifications listed above. But for Full Stack engineers, project management experience is required. Senior-level Full Stack engineers should have at least five years' experience.
They should be able to demonstrate expertise in systems administration, which means they should know how to build systems, as well as manage and maintain them.
Full Stack developers can make about 20 percent more than back-end developer average salary. This holds true whether you're comparing it to a backend software developer's average annual or hourly salary.
Check Full Stack Developers Rates
Back-End Developer Salary Comparison
Whether you are talking about an average back-end software development salary or the hourly rate, what you'll pay will vary widely depending on the circumstances. Expect to see large variations based on seniority level, shortages of talent, and especially the country, region, or even the city where the talent resides.
Average Backend Developer Salary By Skills
Salary for entry-level vs. senior engineers can vary more than double, especially in countries like the United States, where the cost of living can be higher than the rest of the world, and there aren't enough programmers available.
According to this 2021 calculation by ziprecruiter.com, there's nearly $100,000 difference between the low end and high end for salaries in the US. Some of this, however, may reflect the regional differences in pay scales, which we'll explore later on in this story.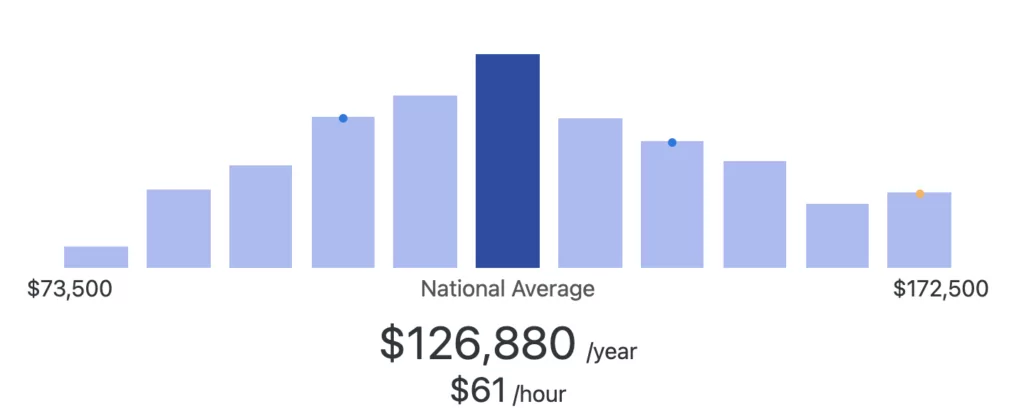 This US-based chart from Software Guild, however, shows much more subdued estimates, with entry-level backend developers earning $34,000 a year, mid-level at $72,000 and senior developers at $98,000.
Keep in mind, this is based on national averages, while the chart above reflects the full range of actual salaries reported on ZipRecruiter. Either way, backend software developer salary is something that varies greatly based on experience, and you should estimate accordingly when contemplating your next hire.
Average Backend Developer Hourly Rate by Regions
Like the backend developer average salary, their hourly rates vary widely by region. This is why, when companies are looking to hire an IT consulting company, they often look outside their borders to develop offshoring. The cost savings can be breathtaking — as much as half the price of hiring consultants in the US or Western Europe, especially if you're hiring senior-level talent. Take a look at the difference in hourly rates, supplied here by codementor.
| | | |
| --- | --- | --- |
| Country/region | Average range | Top-end |
| North America | $80-100 | $160 |
| Latin America | $41-60 | $90 |
| Western Europe | $61-100 | $130 |
| Eastern Europe | $31-60 | $80 |
| Asia | $21-50 | $70 |
As a Ukrainian company, ProCoders prides itself on being able to offer our clients world-class backend developers for a fraction of the cost they could spend in larger markets.
In most cases, our backend developers charge between 20 for entry-level, 35 for mid-level, and 50+ for senior level. Generally, we can have your talent vetted, interviewed and onboarded for you within two days to two weeks.
And salaries or hourly rates are only part of the cost calculation you need to make. Working with an offshoring company means you don't pay for employee benefits like healthcare coverage or vacation pay. And you also save a company time and resources you might spend with an internal hire on training, accounting, recruiting and such.
Hiring a team on an hourly basis is a choice more than ever are choosing to make, because of the savings and flexibility the option offers them.
What Factors Affect the Salary?
Back-end developer average salary, as well as backend developer hourly rate, are affected by a great number of factors. To sum up, they are:
The daily cost of living (housing, transportation, healthcare, etc.) in the country where your IT talent is based
The tightness of the market. Are there enough back-end developers to fill all the open positions in your country? If you are hiring outside your borders, is there a lack of recruitable talent there, too? Prices for talent tend to be tethered to what people are willing to pay in a tight labor market
Skill levels. If your developer knows all the important languages and can brag about extra skills — such as Full Stack development credentials, project management skills, or the like — their value goes up
The rarity of the skills you need — If you need your developer to have certain uncommon skillsets – like knowledge of an obscure programming language, or deep experience in a particular sector for instance — you can expect to pay more for this. How much more will be determined
How Do I Hire a Backend Developer for My Project?
While finding the ideal talent for your next project might seem intimidating, the good news is, there are thousands of IT consulting firms around the world that are dedicated to helping match you with the right staffers for your needs.
Check Backend developers availability
Making the process simple and painless is just good business. But there are some things you should do on your end to ensure that your recruitment process is fast, painless and surprise-free.
Get clear on what you need — Exactly what tasks do you need your backend developer to perform? Will you need them for a short time, or for a longer-term outstaffing arrangement? What programs do you need them to know? What is your deadline to have work completed?
Set budget parameters — With answers from above in hand, you should be able to guesstimate how much an effort like this will take, and how many people you may need for the project. Come armed with this information when you meet with potential offshoring and/or consulting companies
Vet your providers — Once you've decided on the location of the consulting company you want to work with, scour the review sites and professional blogs to determine who the leading providers are in your area. Once you've narrowed your list to no more than five potential companies, begin making calls. Then narrow it down to three providers after that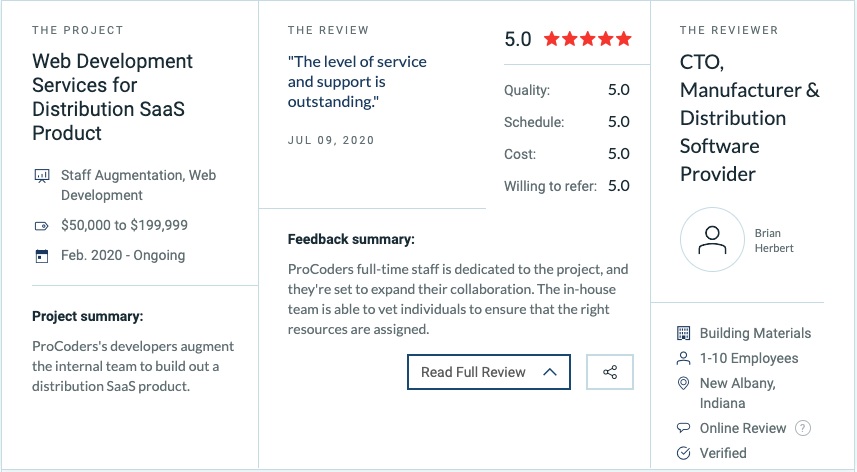 Get thorough estimates — If you can provide the right information to a potential consulting partner, then you can work together to help establish the right mix of team members for your budget and expertise needs. They can also work with you to come up with project milestones, deadlines, and key performance indicators
Conclusion
Whether you're hiring for your internal staff, or you're hiring a consultant, adding a member to your team is a momentous step. However, if you follow the steps we've outlined here, you can approach your hiring process armed with the right information and backend developer salary expectations.
At ProCoders, we'd love to connect you to the first-rate backend developers that we have for hire. We'll help make sure the backend developer salary you pay is worth the price.
Let's schedule a call to discuss all your needs!