Average Front-End Developer Salary and Hourly Rate in the World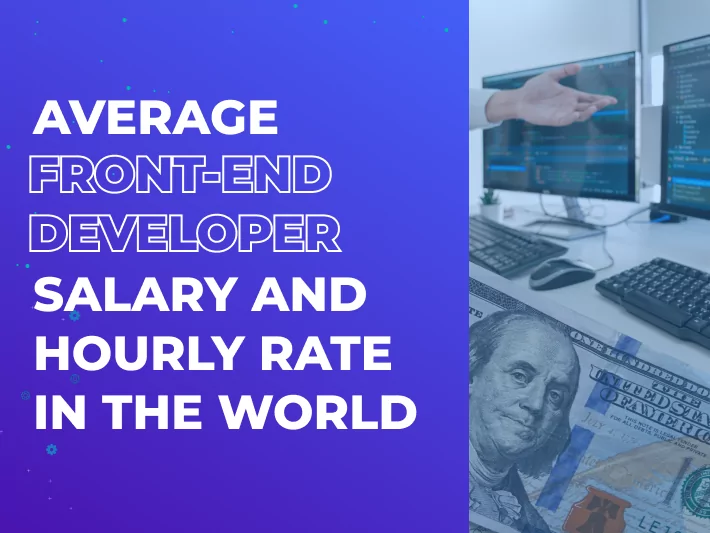 Trying to recruit frontend experts? It's probably no news flash there's not so many available. In fact, LinkedIn determined that in 2021 software engineering is the most in-demand job, with the fastest-growing demand in application development (x13), JavaScript developers (x5), and Ruby on Rails developers (x4). We expect the same trend to be continued now in 2022.
At ProCoders, we can confirm our clients have had these same recruiting difficulties before they came to us for IT offshoring. It's made offering the right frontend developer salary more competitive—and difficult— than ever.
Let's check which developer fits you!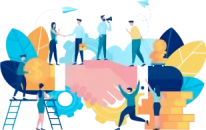 Why such a surge in demand? Need of qualified coders has been growing steadily for years, as consumers get more reliant on websites to interact with companies directly, whether that's consuming industry news, or reserving a product, purchasing a product, or downloading services directly through their devices. And that trend has only been accelerated by the COVID-19 pandemic. It's just another reason why frontend programmers—the coders that create your user interfaces—are more important than ever.
With a tight labor market to navigate, it's crucial to know the salary frontend developer talent can command, or the frontend developer hourly rate. Whether you're hiring a frontend developer on your salaried team, or paying them by the hour, this ProCoders guide will help you make a winning offer.
Front End Developer Salary
How much does a frontend developer make? While demand is high, frontend web developer salary is growing slightly, according to most salary forecasts. An example of Robert Half's 2021 Salary guide even predicts a slight compensation dip, with salary of frontend web developer roles running at $118K to $138K, which is less than the 2020 range of $121K to $143K.
We can only speculate why wages aren't higher, even though demand outstrips supply. Global economies are still reeling from COVID impacts, only now starting to bounce back. Many countries hope to keep a lid on inflation, and in a tricky market, most companies are loathe to raise prices.
Check Frontend Developers Availability
Also, there's the trend toward distributed and remote teams, which may be holding down salaries too, as more workers relocate from high-cost cities to more affordable small towns, and employers adjust their wages accordingly. Time will tell whether it's a short-term effect, or an enduring trend in salary frontend developer teams receive.
The Average Frontend developer salary by Skills and Experience
Differences in pay scale persist between nations, they also persist between experience levels, too. As the chart below shows, a senior developer commands more than twice what a junior programmer does. Most clients find, however, that expertise is truly is worth the price.
A senior software engineer knows the tech inside and out, and they'll have extensive real world-experience. That's important, because your user interface is your company's corporate face. It's where UX and UI come together, and it's crucial that your developer has a portfolio of work in your industry.
At ProCoders, we take pains to do this for our clients. We find that when developers know what experiences are expected by your user, it's easier to meet the expectations, and find ways to exceed them. If you want to have a truly standout web or mobile application, that starts with good UX planning.
There's a reason why average frontend web developer salaries and hourly rates vary so much. Senior developers can show clients not just what to do, but why and how. And that's generally worth the extra investment.
| | | | |
| --- | --- | --- | --- |
| Country | Junior | Intermediate | Senior |
| United States | $92K | $114K | $135K |
| United Kingdom | $72K | $94K | $115K |
| Germany | $54K | $69K | $87K |
| Canada | $43K | $52K | $75K |
| Ukraine | $22K | $40K | $65K |
The Average frontend Developer Salary by Country
How much does a frontend developer make, and how does that vary globally? Programmers are compensated respectably, still, compensation scale varies widely depending on where they live, scarcity of local recruits, and the area's living costs.
As this chart shows, salary ranges can vary widely from country to country. Let's consider this common breakdown, assembled from mid-level listings on PayScale and UpWork:
| | |
| --- | --- |
| Country | Median Annual Salary |
| United States | $114K |
| Germany | $69K |
| United Kingdom | $94K |
| Canada | $52K |
| Ukraine | $40K |
The United States consistently comes in as some of the highest rates in the world. Though even here, rates of pay can vary as much as 40 percent depending on the city where the developer works. The cost of living in New York City is two to three times as high, for instance, as a city such as Boise, Idaho.
So if you're hiring in cities where the big tech hubs are—New York City, San Jose, San Francisco, or the like expect to pay an additional 30-40 percent premium over these numbers. The same can be said of Canada and the United Kingdom, where cost to hire a web developer in major cities such as Toronto or London will be much higher.
But all jobs are cost more in Western Europe and North America cost more than outsourcing your job to Ukraine. As a Ukranian company, we have found we're able to save our clients about fifty percent on the salary of front end web developer teams they hire from us. This is an advantage the low cost of living in Ukraine gives our local IT industry.
Front End Developer Hourly Rate
The Average frontend Developer Hourly Rate by Country
Studying the breakdown below, you can see how local conditions impact frontend developer hourly rates. The United States, with high levels of innovation and not enough students pursuing IT, has the world's highest frontend web developer hourly rate.
| | |
| --- | --- |
| Country | Average Hourly Rate |
| United States | $57 |
| Germany | $39 |
| United Kingdom | $42 |
| Canada | $30 |
| Ukraine | $24 |
The Average frontend Developer Hourly Rate by Skills and Experience
Most hourly rates internationally tend to vary in much the same way as this model from the United States. Here, compensation starts at $46 for juniors proficient in JavaScript, HTML and CSS; $57 for intermediate level with a wider variety of complementary programs; and $67 for a senior engineer that can handle high-end technical programming jobs as well as project management and client relations.
Whether you're hiring a frontend web developer by an annual salary, or you are hiring by an hourly rate, understanding how much these average rates vary can help you navigate, even in a competitive in a tight labor market.
Conclusion
Now that you know the average frontend web Developer Salary and hourly rate in the world, you see that compensation is based on your programmer's grasp of your security, data and information distribution concerns. Your developer's expertise and home country will also impact the average-frontend developer salary, and the average frontend developer hourly rate.
Now, while you searching for front end web developer for hire, you'll never pay more than the market allows. And you'll never pay less, either. The key to getting the developers you want—the true top talents—is to know your market, and the value of the services you need.
Let's schedule a call to discuss all your needs!