Hire an App Developer: Cost per Hour and Region Rates Comparison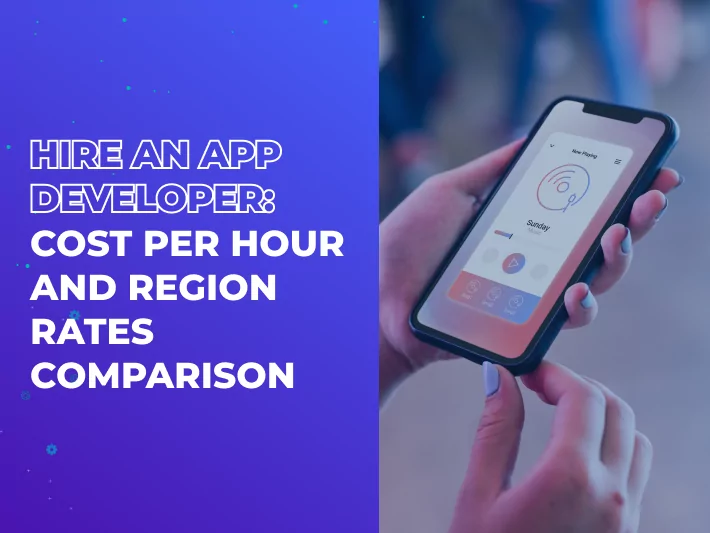 Seems like every business nowadays moved to an online realm, and even more so, with the rise of smartphones and tablets (more than 50% of data traffic comes from mobile devices), took a form of a mobile app. Even local things like coffee shops and corner shops have apps with loyalty programs and discount bonuses.
With that being said, having a seasoned developer to turn your business idea into reality is an essential part of the quest.
In fact, how much does it cost to hire an app developer?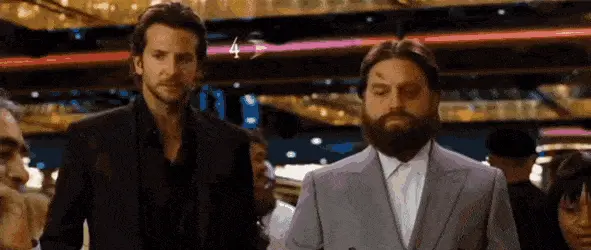 This blog post has been created especially for those who want to quickly find out the average cost and make a decision. You do not need to go from website to website yourself, we did your homework for you.
Actually, we can also help you directly with app development itself! If you are looking for a reliable company to hire remote developers from – we at ProCoders are ready to offer our excellent staff augmentation services. Until then, let's start.
Factors Affecting the App Developers Cost
Now, if you want to know what factors affect the app developer rates per hour, things can get a little complicated, because there are several of them and they tend to affect the price in different proportions. The most important factors are:
1. Qualifications / Skills
To put it simply, where did the developer get their education, and what skills do they have. The more skills – the higher the cost per hour. Some of them go hand in hand (like UI/UX) and generally don't overrun the mobile app developer hourly rate, but if you are trying to hire full stack developer to cover multiple stages of development it can significantly affect the rates per hour.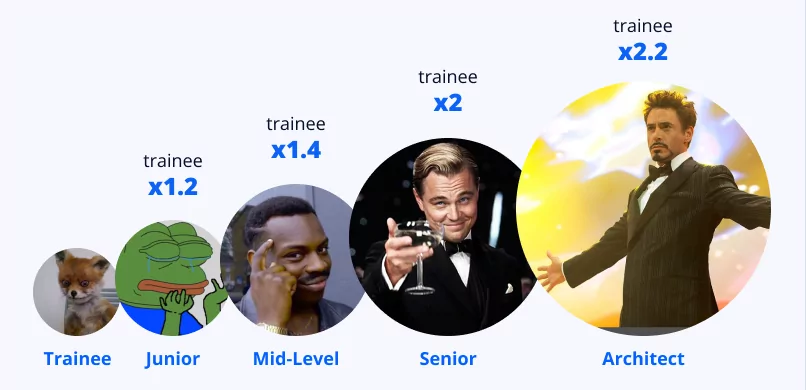 2. Experience
It goes without saying that the hourly rate for a mobile app developer with years worth of experience (and positive reviews!) is higher than an hourly rate for a developer who had just graduated from respective courses. And although experience is not directly correlated with the quality of the work performed, this factor significantly affects the cost of hiring.
3. Location
Among the factors affecting the rates per hour, location stands out as one of the most significant. It is largely affected by the standard of living and the cost of living in the country, as well as the saturation of the labor market. For example, if we look at how much app developers charge per hour in the USA compared to Ukraine, we will notice that American coders can be seven times more expensive than Ukrainian.
Get Ukrainian IT salaries annual report
4. Technology
The cost per hour can be also affected by the particular tech stack you are looking for. IT market is quite flexible and quickly adapted, so programmers quickly occupy in-demand niches, but generally, the cost to hire a developer who specializes in a more rare technology (be it a programming language or a framework) is higher.
5. Complexity
The cost depends not only on the hourly rate but also on the complexity of your project. Some developers prefer to work with the patterns well known to them and do not leave their comfort zone, some, on the contrary, love a challenge, but usually, it affects the rates.
Cost of Hiring an Android App Developer vs. an iOS App Developer vs. a Cross-Platform App Developer
When thinking about mobile app development cost per hour, we can't cover the topic of the iOS vs. Android debate. Should you choose iOS, Android, or a Cross-Platform option for your business, and how exactly does it affect the charge?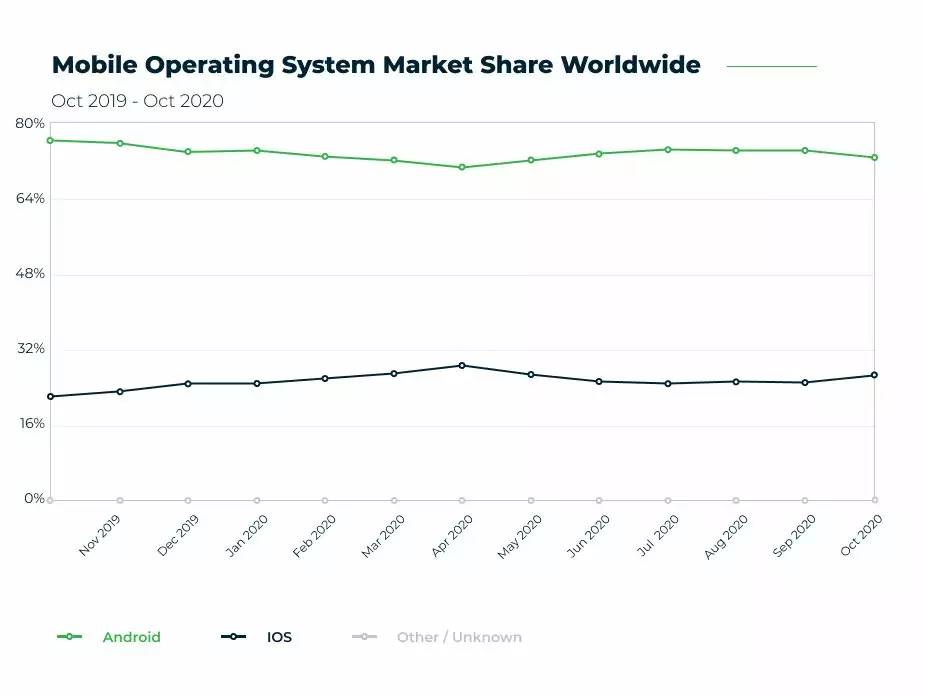 According to Statcounter, there are four times more Android apps than iOS. Mostly due to their flexibility, ease of publishing, and learning resources.
However, iOS platforms are well-known for their performance, smooth and flawless UI/UX, and the ability to access the Apple ecosystem. Furthermore, they are more popular in North America and Western Europe.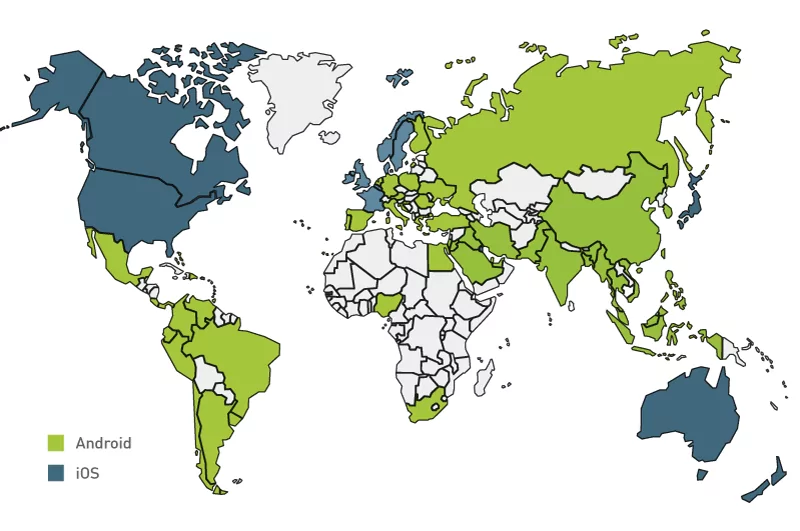 If you want to engage both audiences, you should consider developing a cross-platform application.
Contrary to popular belief, the average cost to hire an app developer to create an iOS app is lower than developing an Android one, as the iOS applications are created in less time.
The screen sizes of Android devices vary, their primary language (Java) is larger than Swift (iOS), and the iOS testing environment is more effective and sufficient. As a result of the overall simplicity of the coding, the app developer cost per hour decreases.
Now, the range of rates varies depending on the factors already mentioned previously. For example, if you want to hire an app developer, the cost would depend on the location, the market density, and the available tech stack. But generally speaking, an hourly rate for a developer who can create an iOS app in the US ranges anywhere between $50 and $85, $50 is for a junior developer, and $85 for seniors and even middles. Multiplying this number by the number of hours will give you the ultimate cost.
Now let's compare the cost to hire a developer for an Android platform. The Android coders charge slightly more – from $70 to $100 (in the US). Also remember, that Android apps take longer to develop, so the final amount would be bigger.
Now, if both iOS and Android developers' hourly rate is somewhere near $100, what is the cost to create a cross-platform one? A Flutter app developer's cost per hour in the US can fit into a range of $75 – $120, but this option is the most enticing one for those who want to reach both Android and iOS target audiences.
Cost of Different Hiring Options, Their Pros and Cons
When thinking about finding developers for startups you are presented with three options: doing it by yourself, hiring with staff augmentation agencies, or using a recruiting agency.
1. Hiring a Freelancer By Yourself
Freelancers may seem like a perfect option when you think about the price. Among other options, they are definitely more budget-friendly, with freelancer rates per hour varying from $15 (coders from China or India) to $120 (in the US). With this wide range anyone can find someone in the middle to meet their budget.
However, it's not only the hourly rate you need to worry about, but also an overall cost to hire a mobile app developer – and by that, we mean recruitment and hiring hassles, that are inevitable when you do it by yourself. According to the National Association of Colleges and Employers, the average hiring procedure can cost up to $4,129. So when you hire a developer, the cost depends not only on the rate, you need to take that into account.
So looking only at lower developer rates per hour and thinking about saving your money isn't going to get you very far.
2. Hiring with a Recruiting Agency
You most definitely save time and resources by choosing this option, since the recruiting agency will do all the hard work – choosing a small pool of candidates for you to pick your coder from. In this case, the average cost would consist of a developer hourly rate plus paying for services of an agency.
A significant disadvantage of this method is the lack of deep technical expertise from the agency, which is not very beneficial for non-technical CEOs.
3. Hiring with a Staff Augmentation Company
As in the case of agencies, this method may not seem very budget-friendly, but when you choose an outstaffing company you choose a reliable high-quality partner who will help you not only find a developer for your company but also help with technical issues. How much does it cost to hire a programmer with an outstaffing company? Well, it depends on the pricing policy.
However, generally, the final cost consists of a cost per hour plus a markup. For that price, you get a seasoned developer without the hassles and bustles of a hiring process and after the project, the developer can be dismissed without any problems.
Find out how the Outstaffing model fits you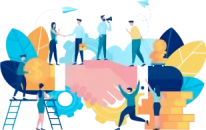 At ProCoders we offer staff augmentation services to those who want to save time and resources, as well as use our extensive expertise in software development. We have access to a large pool of top Ukrainian developers ready to make your business dream come true. If you'd like thorough research about the cost of hiring app developers in Ukraine you can schedule a call and we'll reach you in no time!
App Developer Cost Per Hour Depending on the Region
We've already mentioned how drastically different the development rates can be depending on the location. Here we would like to examine more closely the prices in several regions. The most prominent regions to hire coders from are North and South America, Europe, and Asia.
1. North America
Developers in the USA are the most expensive developers across the world, the cost per hour ranging from $42 to $70, according to Salary.com. The median in this case (the salary that 50% of the developers have) is $58, which isn't expensive on its own, however, when you add annual bonuses and benefits to it, the median goes up to $70. Not to mention the fact that if you want to hire a senior developer with 3+ years of experience the hourly rate for an app developer can skyrocket to $120.
The cost per hour in Canada isn't substantially different from the USA – the median being $40. The most experienced developers make $71 per hour. This is largely due to the close intertwining of the economies of neighboring countries.
According to PayScale, the average cost in Mexico is $26. However, again, due to the proximity to the United States, wages in Mexico are on a steady upward trend, and they are forecast to grow by 25% over the next 5 years, so the hourly rate is expected to rise.
2. South America
The cost in South America is fairly homogenous and differentiates ever so slightly (the only difference being Panama). The cost in Brazil hovers between $20 and $40, in Colombia – between $18 and $27, in Argentina it is in the $23 – $45 range.
3. Western Europe
Key countries in this region include Germany, UK, France. Another region where developers are more expensive, albeit less so compared to the US.
As a rule, developers in Western Europe are in great demand, and therefore their rates on the labor market are slightly more expensive than their counterparts from Central and Eastern Europe. This happens because the demand in the labor market greatly exceeds the supply.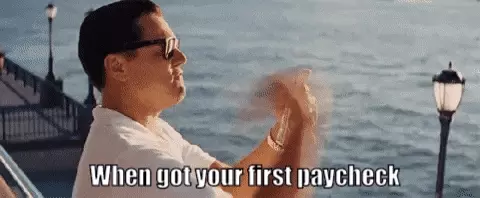 The average cost to hire a mobile developer in Germany is $45. Along with Switzerland (the hourly rate is approximately $51), Germany is the most expensive country to hire developers from.
The developer rates in the UK are around $35-$37, in the Netherlands – $40. To summarise, it will probably be more expensive to hire a coder from Western Europe, but what's more important – it will take a lot of time to find a seasoned developer who's not already working on any projects.
4. Central and Eastern Europe
Well, what is the cost to hire a programmer from Central or Eastern Europe? The cost of hiring from countries like Poland, the Czech Republic, or even Hungary will not be significantly lower than in Western countries, since they are located closely and share the labor market.
The median in Czech Republic is $30, in Poland it is $35, in Hungary and Serbia – $29. However, the cost from Eastern Europe is a drastically different number. The density of coders is higher, meaning there are more available developers on the market, creating a competitive space with lower app development rates per hour, compared to the US or the EU.
In Ukraine, for example, the median is $27, in Belarus – $26. Russia is the most expensive country of them all, but even still the cost to hire there is $31.
What's more important, the price from Eastern Europe does not affect the quality. Coders from Ukraine are as capable of creating complex intricate digital products as their colleagues from the US, so your project will be delivered in less time and with outstanding quality.
5. Asia
Asia is by far the cheapest region to outsource your project to. In India, the average cost per hour is $19. The hourly rate in Vietnam is $20.
However, with that comes one drawback: if you want to hire developers with app development rates per hour this low, you'll probably end up with a flawed product, because tasks for that price are stamped out on the assembly line. The cost should be around $25-$30, and that puts countries like India way closer to the European range.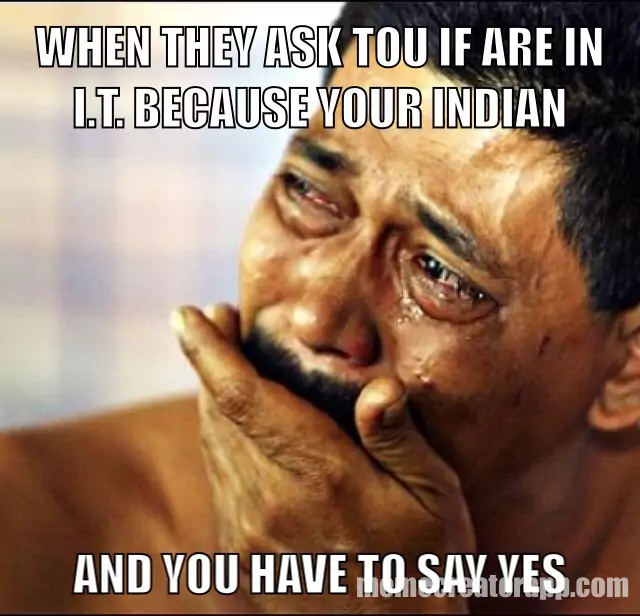 Countries like China used to be cheaper, but now the hourly rate there is $30, in Singapore it is $35, in South Korea – $29.
4 Tips for Hiring an App Developer at Reasonable Cost
The matter of knowing how much do app developers charge per hour is important not only to small companies with limited budgets but to medium-sized enterprises who want to make the most out of their investments. In this case, knowing solely the rates per hour may not be enough, that's why we prepared for you this list of tips on how to hire most effectively.
Tip 1. Carefully analyze the market to determine mobile app development hourly rate
When it's time for an interview and your potential employee names their desired salary, you need to know how it corresponds to the average hourly rate at the market. Knowing the developer cost per hour is also useful for determining the preliminary budget of the project.
Tip 2. Determine the optimal tech stack to figure out mobile app developer hourly rate
Since technical qualifications have a strong influence on the cost of hiring, it is best to decide on it from the very beginning. Then you'll know the cost for a particular tech stack and not overpay for unnecessary skills. In addition, decide on the platform on which your application will be located.
Let's check which developer fits you!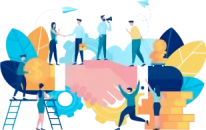 Tip 3. Consider offshoring to lower the cost to hire a mobile app developer
Offshoring is a great option for those who want to save money but don't want to sacrifice product quality because the cost varies greatly from country to country. First and foremost, you will be able to employ a more qualified developer First, you will be able to hire a more qualified developer (the senior app developer cost per hour in Ukraine is the same as the middle in the US). You may also be able to hire a coder for a longer period of time. Overall, a fantastic deal!
Tip 4. Use staff augmentation services
If you only need a developer on a temporary basis to create an application, staff augmentation firms may be a good option. Yes, an hourly rate can be slightly higher, but when sick leave, vacation pay, and providing the necessary equipment are factored in, the benefit is clear. That way the average cost is lower in the long run.
As a staff augmentation firm, ProCoders can attest that hiring workers through such a mechanism is extremely cost-effective. Our clients have only positive things to say about their experience working with us, and one of the reasons is the quality-to-price ratio.
These tips hopefully were helpful in determining how much should it cost to hire an app developer. But how can we directly help you launch your app?
Get a High-Quality App and Spend Less Hiring an App Developer with ProCoders
At ProCoders we know everything about staff augmentation firsthand and can share our extensive experience with you.
At ProCoders we can assemble a team of seasoned Ukrainian developers for your project in no time, with an average cost lower than in the US or in Western Europe. In fact, although the hourly rate for a mobile app developer in Ukraine is higher than in India or China, the quality of our developers is unmatched across the globe.
We were able to conduct a large and thorough Discovery Phase for our Dryft partners, streamlining their business vision while also helping to simplify the product. In the end, our cross-platform strategy of using Ionic alongside Node.js and Angular saved 40% of development time and 60% of the cost. We can do the same for your app – you can schedule a Discovery Phase and we will break down the nuances of your own business idea!
Let's schedule a call to start a Discovery Phase for your project!
We also helped Roth River to launch a revolutionary IoT app for their distillery company! They needed an app to cater to the needs of their clients, and we delivered. Again, to maximize the efficiency we decided to use React Native and connect their web application to a mobile app, creating a unique cross-platform solution. As a result, the development time was reduced by 25%, and our partners at Roth River were able to save 50% by using React Native.
To summarize, Procoders can help you with the implementation of your business ideas at any stage, beginning with the Discovery Phase and ending with development. With extensive experience in a variety of industries, we will undoubtedly assist you in developing a one-of-a-kind product that will find a market niche. If you are thinking about outsourcing app development, we might be able to help you!
F. A. Q.
What influences the mobile app developer hourly rate?
There are numerous factors that influence the average cost to hire an app developer. Among the most important are the location, experience, qualifications, skills, and fluency in various languages/frameworks. Furthermore, the impact of labor market saturation and the availability of hiring coders cannot be overlooked.
How can I save money on hiring an app developer?
When hiring a developer, there are several ways to save money: you can use the difference in app development rates per hour in different countries and hire an offshore coder, you can try to find a freelancer, but in this case, there is a risk of spending more time on hiring procedures. You can use the services of a staff augmentation company, which will provide an employee to your team for a while, free from additional payments like sick leaves or paid leaves.
What are the countries with the highest mobile app development cost per hour?
Developers from the United States and Western Europe will be the most expensive, as there are very saturated markets and few free developers available. In addition, the high level of rates is also influenced by the high cost of living in these countries.
Conclusion
A mobile app is a must-have for any business in 2022, so if you're thinking about developing one, the question of how much does it cost to hire an app developer has probably crossed your mind at some point.
If you are on a tight budget or want to make the most of every dollar spent on development, we strongly advise you to consider offshoring. It is an excellent option because mobile app development does not necessitate a permanent presence in the office, and tapping into a larger pool of talent can ensure you'll find app developers for hire quickly and effectively.
Hopefully, we were able to assist you in determining how much should it cost to hire an app developer, and you are now ready to begin working. If you have any further questions, please do not hesitate to contact us or schedule a consultation if you are looking for talented developers to assist you in creating the best mobile app available.
Let's schedule a call to discuss all your needs!