React Native Developer Salary and Rates
When you compare React Native developer salary and hourly rates, you may discover outsourcing is the right option for your company
If you're looking for a React Native developer, programmer or engineer, you're not alone. With all the React Native pros and cons it is one of the world's most popular JavaScript-powered, cross-platform frameworks. Even if we compare Flutter vs React Native it is still a good competitor for its younger brother.
In fact, according to a survey by Similartech, React Native is now being used by more than 1 million websites around the world.
| | | | |
| --- | --- | --- | --- |
| | June 2019 | June 2020 | Deviation, % |
| React Native | 40 | 57 | +43 |
| Android | 92 | 76 | -17 |
| iOS | 109 | 94 | -14 |
The number of vacancies in Ukraine. Source: dou.ua
Fortunately, the growing demand and popularity of React Native means there are more coders available that are familiar with the framework, and comfortable coding in JavaScript. But that doesn't make the process of hiring a React Native developer any easier.
Should your company hire on staff, or contract the work out? Do you work with programmers close to home, or overseas? What's a reasonable salary? A reasonable hourly rate? React Native app development cost? And how do those React Native developer salary trends vary from region to region?
We often find that once companies consider the additional costs that come with hiring programmers in house, that outsourcing is usually the best course of action. But not always.
Estimate your application on React Native
We'll help you do a React Native Developer Salary Comparison and Hourly Rate Comparison, to help you decide.
React Native – Growing Popularity and Demand
React Native is among the world's most widely used cross-platform frameworks, with 42 percent of programmers reporting that they know the language and use it often, according to the latest developer survey by Statista.com.
It's also important to remember that JavaScript, the programming language that underpins React Native, is one of the easiest to master and most popular programming languages in the world, used by web designers, developers, programmers and engineers.
That lowers the barrier to entry for your projects, making it easier for you to find and recruit the right programming talent.
React Native Developer Salaries – Salary Trends
What's the correct amount for a React Native programmer salary? The amount varies widely depending on experience, and the competitiveness of the market you wish to hire in. As more websites are created in React Native, competition for talent competent on this cross-platform framework intensifies.
Over the last few years, salary levels for React Native developers have risen by about 5 percent a year, year over year.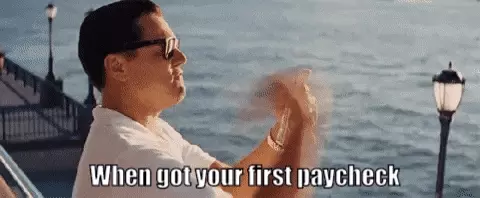 React Native Developer Salaries based on Work Experience
If you're wondering what the average React Native developer salary is, the only answer we can give you is—it depends. How much you'll spend depends on the market demand in the country where the talent is located, as well as the expertise level of the talent you hire.
Get React Native specialists salaries report
For instance, an entry-level JavaScript web designer will make a fraction of what a senior level React Native programmer might make. And that senior level programmer might understand other key issues—such as how to develop a mobile app with proper security and user privacy controls, cross-platform protocols, third-party modules and testing, and more. All of this may be a worthy investment, depending on your project.
To give you an idea of the variance in salaries, take a look at this U.S. 2020 chart from ziprecruiter.com:
If you're trying to determine the proper React Native developer hourly rate, the situation is no less complicated. No matter what the complexity of your app, the hourly rate you will pay depends on the expertise level of your freelancer. This chart from talent hub codersera.com breaks it down based on a US coder market.
As you can see, the React Native developer hourly rate can vary more than fifty percent. The key is hiring a freelancer with the core competencies you need, at the level of expertise you need, and paying them fairly for that.
Again, this is one area where going to an outsourced development firm can help you. They can assemble a team with the right level of expertise for your project, ensuring you pay only for what you need.
React Native Developer Salaries based on Countries
React Native salaries vary widely from country to country. As you can see, Ukrainian talent are among the least expensive programming talent in the world, and yet, the level of STEM education in the country is high, with over 400 Universities in Ukraine, most of them with world-class tech degree programs.
The proliferation of programming talent in Ukraine, coupled with a low cost of living, makes it an ideal market for you to consider when staffing up for your next web or mobile development project.
There's a reason Ukraine has emerged as the dominant IT outsourcing center in Eastern Europe, and a reason why major corporations such as Microsoft and Skype have their R&D centers in Ukraine. Consider how salary expectations vary, country by country, for React Native developers:
Conclusions
While an individual developer's pay history might be a matter of some privacy, there are many sources available that can help you figure an average React Native developer salary. The key is to know the level of expertise you need, the type of engineer you need to work on your mobile app, and the type of engagement you need — a salaried team member or an outsourced freelancer. When you figured all this up, you can start preparing React Native interview questions for your future candidates.
Keep in mind too, the freedom and savings you can get when you hire offshore developers in Ukraine. We'd love to show you how working with ProCoders on your next React Native development project can help you create a superior mobile app, for less.
Check React Native developers availability