A New Era of Digitalization e-Residency in Ukraine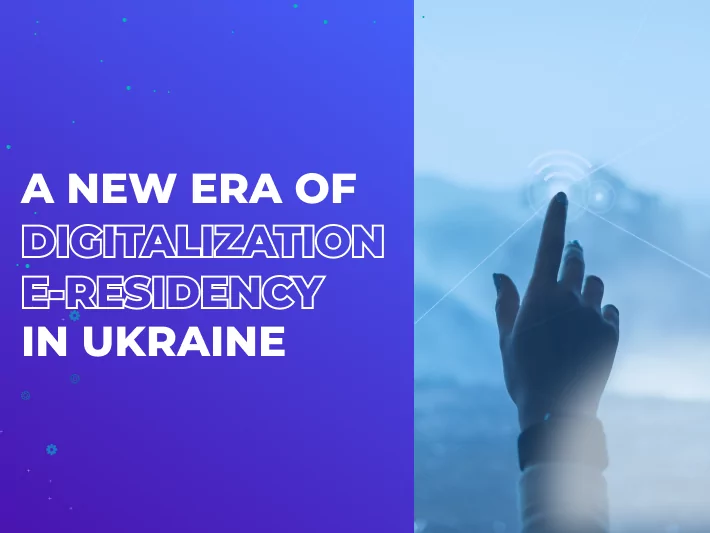 What is e-Residency?
Ukraine has become a hub for those who want to start their lives as entrepreneurs. Ukraine e-Residency is a program by which individuals can become residents of countries with a lower tax rate, as long as they hold valid financial services and specific skills.
Just like regular residency, prospective applicants must pass a knowledge test, provide proof of income, and pass a similar background check. The main difference is that e-Residency allows businesses to open offices in Ukraine without having a physical presence there; this effectively creates a borderless economy for entrepreneurs who prefer to operate from countries with more relaxed regulations.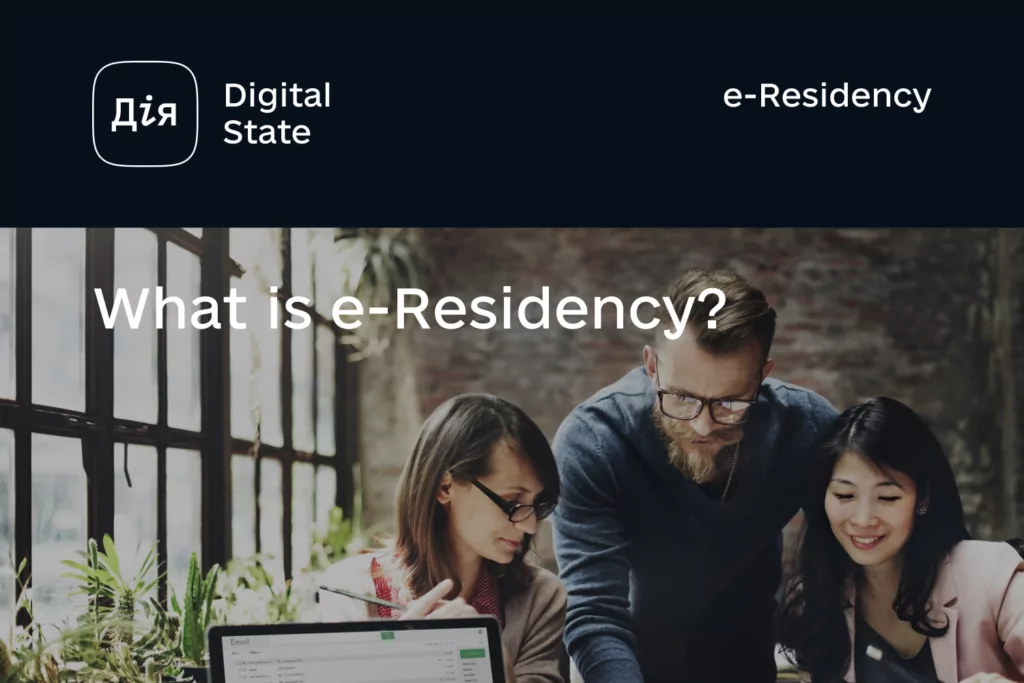 By establishing a base in the e-residency marketplace, you can access digital services from local banks and companies without leaving your home country. This blog will guide you through the process and provide useful information about the advantages of starting an e-resident business in Ukraine.
How Does it Work?
The evolution of digitalization has led us to a new phase where borders are not so relevant. The world is becoming smaller and smaller, while communities are becoming increasingly global. With so many people moving around, e-Residency gives entrepreneurs a chance to establish their company in a new country without having to leave their home country.
An e-Residency program is a type of corporate identity that is supported by an electronic document. It can be used to start a business in Ukraine or any country where it is an option (such as Estonia), with no additional documents apart from the usual business registration and money transfer regulations.
The program was developed as an alternative to a physical residency permit, but works on a much simpler and faster system. The main difference between the two is that an e-resident can carry out any legal action on his permanent residence status even if he is not physically present in the country.
The government of Ukraine launched its e-residency program in mid-2020, opening the country up to trending innovations from visionary entrepreneurs from around the world.
According to the release from Ukraine's Ministry of Digital Transformation, "This is a special status of a foreign citizen in Ukraine, which opens access to information and consulting services, simplifies the procedures for obtaining administrative services and concluding civil law agreements, as well as gives foreigners the opportunity to remotely launch and conduct business in Ukraine."
The primary targets of the e-residency Ukraine project, at least for the pilot phase, are IT specialists. Therefore, the development is expected to drive innovation in IT, software development, and the likes in the country. If you know what is staff augmentation, as an entrepreneur, you can leverage this opportunity to expand your workforce beyond your country's borders. The government hopes to have admitted over 3,000 e-residents by the end of 2022.
How to Become an e-Resident of Ukraine?
Before then, you must go through the registration processes and have the necessary checks performed. The steps below show you how to apply for Ukraine e-residency. All the steps can be performed remotely.
Apply and submit the necessary documents via the official e-residency portal and wait for your application to be reviewed.
Go through the identification verification process at the consular office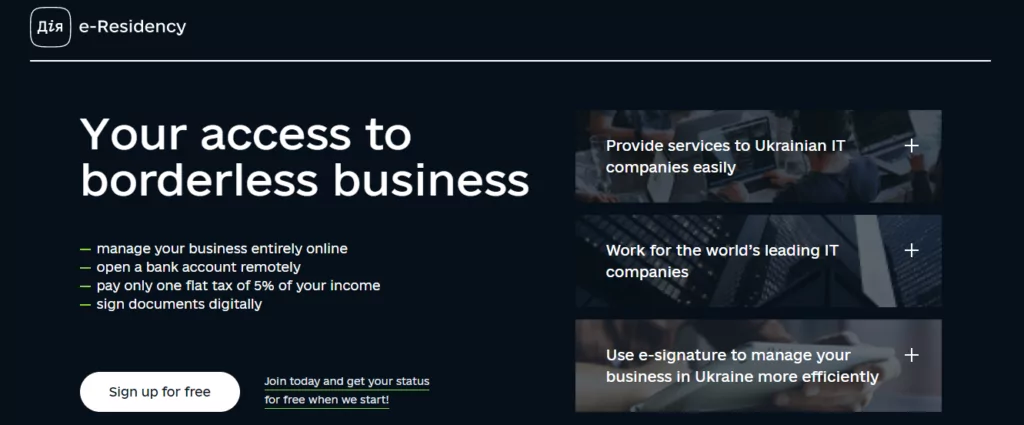 Receive your Tax Identification Number (TIN) and your e-resident electronic signature
Register your business as a private entrepreneur; fizichna osoba-pidpriyemets (FOP)
Open bank accounts, pay your e-residency taxes (5% only), and comply with regulations
5 Major Benefits of e-Residency in Ukraine
E-residency Ukraine benefits are immense, but only 5 have been considered here. If you have any doubts of how the program can be useful to you as an entrepreneur or a freelancer, this section will convince you.
Business Expansion. For a start-up, establishing a physical presence in another country is a vital step towards being operational in the global markets. It's a powerful tool for entrepreneurs looking to move their businesses forward into the international domain.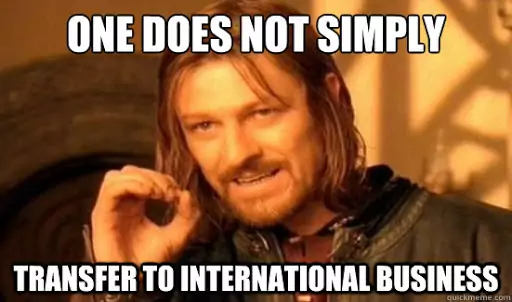 Relaxed regulation. E-residency allows you to run your business in Ukraine from anywhere in the world. The government also provides certain incentives to encourage such investments. For one, as an e-resident you only pay one flat tax, which is 5% of your income.
Ease of doing business. Running physical businesses is hard. Ukraine, with its e-resident permit, makes it easier for entrepreneurs to manage various aspects of their business and even hire remote developers or other professionals for their business needs. The government also assists, for instance, by providing automated tools to pre-fill your tax reports and pay your tax online without much paperwork.
Get Ukrainian IT salaries annual report
Business security. E-residency in Ukraine comes with a unique electronic signature that helps you to securely sign contracts and documents. So, even if you are not present, your business operations remain secure. You can learn how to do similar thing for your business in our article "How to Make an Electronic Signature Software Like DocuSign".
Business management. If you are not present where your business is, you want to maintain direct oversight over its operations and ensure that it is doing well. With your e-residence status in Ukraine, the government can provide you a personal English-speaking manager to act as your proxy, consult for you, and answer your questions.
How Much Does it Cost to Become an e-Resident of Ukraine?
E-residency Ukraine price is free. You can even sign up directly with your Google or GitHub account. It is better to apply as soon as possible; it is uncertain whether e-residency Ukraine cost will increase later in the future.
Restrictions on the types of business activities for e-Residents in Ukraine
Ukraine launched its e-residency program only last year, and it is a pilot scheme. Therefore, foreign entrepreneurs are not allowed to run all forms of business on their e-resident status.
The scheme is mainly geared towards IT specialists and it is expected that it would expand to cover some other industries as time goes on. However, the present structure is great for business leaders looking to set up an offshore development center in the Eastern European country. Gaining e-resident status in Ukraine permits you to run only the following types of businesses:
Publishing of computer games
Other software publishing
Computer programming activities
Other information technology and computer service activities
Data processing, hosting and related activities
F. A. Q.
What do you get as an e-resident of Ukraine?
Once your application for e-residency in Ukraine is successful, you receive a Ukrainian qualified electronic signature, registration number of the taxpayer record card, the opportunity to open an online account in a Ukrainian bank, and simplified access to administrative services in Ukraine.
How much does it cost to apply for Ukraine e-residency?
E-residency Ukraine price is free. You can even sign up directly with your Google or GitHub account. It is better to apply as soon as possible; it is uncertain whether e-residency Ukraine cost will increase later in the future.
What taxes apply to an e-resident of Ukraine?
As an e-resident you only pay one flat tax, which is 5% of your income.
Conclusion
Digitalization is a key component of Ukraine's development and success. It offers endless opportunities for businesses of all sizes to compete with each other on the basis of technological innovation.
In order to realize these potentials, it is essential for all entrepreneurs interested in tapping into the Ukrainian market to understand e-Residency Program details.
Contact us at ProCoders to learn more about this e-residency program in Ukraine and understand your options regarding hire IT developers from Ukraine.
Let's schedule a call to discuss all your needs!